As one of the most trusted public services, healthcare facilities have an obligation to serve those in their community. Health emergencies can happen at any time, and as such hospitals are expected to be open 24/7. While medical staff can be shifted so that the hospital is constantly staffed and prepared for emergencies, the same cannot be said about the equipment they employ. Ensuring that your hospital has technology capable of being used on a 24/7 basis is crucial to providing quality healthcare to those in your community.
How To Keep Your Medical Carts Running 24/7
Medical carts with medical computers are one of the most important facets of any hospital. Medical carts with medical computers are capable of turning a stationary piece of medical equipment into a mobile workstation for use in multiple rooms of a hospital. However, medical carts with medical computers have one downfall: they need to be decommissioned regularly for charging. Medical carts can spend hours every day plugged into the wall instead of helping patients. But it doesn't have to be this way. With medical computers from Tangent, your medical carts can operate on a 24/7 basis. Medical computers like the E24B from Tangent utilize hot-swap battery technology. While one battery is in use, two others can be charging. When the in-use battery gets low, simply insert another battery into one of the other two battery ports and the medical computer is completely recharge, all without being turned off!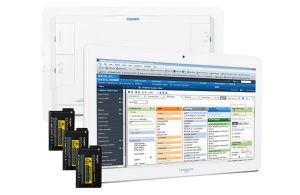 Medical All-In-One PCs
Another way to ensure your facility's medical computers are able to operate 24/7 is to make sure they are medical all-in-one PCs. Medical all-on-one PCs are medical grade computers where the entire computer contained behind their touchscreen. That means that medical all-in-one PCs like the Medix C19 from Tangent do not require mice or keyboards to operate. In addition, medical all-in-one PCs have the least amount of moving parts possible, driving down the amount of maintenance necessary substantially. Medical all-in-one PCs also can feature hot-swap battery technology, allowing them to be moved from one room to another without being unplugged and turned off. In an emergency, medical all-in-one PCs can also make use of their UPS battery backups to ensure that life-saving care can continue even without external power.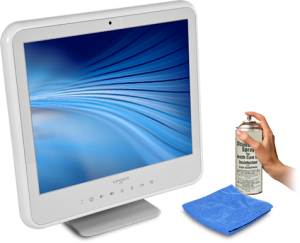 24/7 U.S. Based Technical Support for Medical All-In-One PCs
Just like how your hospital operates 24/7, Tangent's U.S. based technical support team is available 24/7. Tangent's trained technical support operatives are knowledgeable about all tangent medical computer and medical all-in-one PC products. With remote assist tools, advance exchange services, and image pre-loading, Tangent's U.S. based technical support team will find a solution to your issue. 
Medical Computers From Tangent: Built For 24/7 Use
Hospitals are designed to run around the clock, and the computers they employ should be too. Medical computers from Tangent are built to be used 24/7, ensuring your hospital provides the quality care your patients depend on, day and night.