Rugged Industrial PCs in Agriculture
Not many industrial sectors look to technology for efficiency with as much fervor and adoption as agricultural industries. In 1793, the cotton gin machine was patented which immediately contributed to the success of cotton in Southern farms. The industrial revolution of the 1800s brought about many new inventions including the McCormick mechanical reaper that could harvest an acre of wheat in an hour, whereas it formerly took all day to gather the same amount using hand reapers. Automated feeding systems for livestock, computerized milk collection and milking machines have been around since the late 20th century and resulted in much faster and larger yields. In our modern times, industrial farmers and ranchers are no less inventive and mindful of progressive techniques and advanced computer applications and software.
An interesting example comes from a Canadian company who began using early versions of RFID (radio-frequency identification) on ostrich chicks in the 1990's.These birds are highly valued, but unfortunately have a high mortality rate. Because of this, the company began tracking the birds in the field with RFID enabled leg bands to see how long they stayed at feeding troughs and how much they ate during each visit. That information gathered on computers enabled ostrich ranchers to identify which birds were at risk, and thus their lifespans began to lengthen with the help of  targeted treatment. Many ranches now use RFID to track cattle health, their behavior, and to also track their numbers and location. By pairing a cow's tag RFID number with other sensor data, ranchers are able to see how an animal is acting and feeling, and can therefore determine which ones are thriving and what factors are leading to that. This is an amazing amount of insight into individuals amongst a herd which may number in the thousands.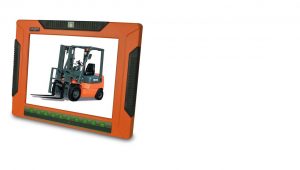 The computers best suited for field data collection will always be rugged industrial computer systems that can stand up to the elements and dusty environments endemic to agricultural and/or open grazing lands.  The Tangent F15 15" rugged tablet computer is not only completely sealed and protected against water and dirt intrusion, its sturdy case is designed to withstand falls, shock and vibration. The tablet has no internal fans, which equates to a long-lasting and reliable operation stemming from no moving parts to break and no ingestion of dirt and contaminants. It's designed to be easily mounted on vehicles like forklifts or agriculture vehicles as to serve multiple purposes. The F15 tablet computer is equipped with an RFID module, a 3G module, and GPS so that farmers can easily pursue innovative livestock tracking solutions like the ostrich and cattle ranchers mentioned in the example above, or excel in crop and inventory management amongst many other efficiencies using the same technologies. This rugged industrial computer can operate at extreme temperatures ranging from -4  to 140°F, which many ranches and farms across America can easily put it through. Anything short of industrial grade and rugged construction on a work tablet would cause a loss of revenue on both the computer equipment but on essential data about livestock or crops.