Hospitals are sites of constant innovation. Over the course of the pandemic, doctors and nurses have made do with what they had, fashioning PPE out of plastic bags and making the most of their situation. Now that vaccines are widely available, and we are on the other end of the delta variant surge, now is the time to start thinking about the equipment they'll carry into the future. Doctors and nurses shouldn't have to worry about old equipment, or a lack thereof. They deserve quality equipment that they can depend on. If that's not reason enough, here are four more reasons why your hospital should incorporate new equipment like medical tablets.
Free Up Desk Space
Your facilities team has no doubt had to switch around your hospital's layout over the course of the pandemic. Perhaps even multiple times. In these change ups, some employees may have lost their working space. Or maybe their workflow is such that they rarely have time to sit at their desk at all.
Medical tablets like the T13 can help doctors and nurses do their work while on the move, without needing a desk. The T13 is a full medical PC in a small, portable package. It has the power to run standard medical programs while still being light enough to carry.
Antimicrobial Medical Tablets
While hygiene was always an important part of any hospital's success, it became the top priority during the pandemic. Hygienic standards were crucial to keeping hospital staff safe. Going forward, the threat imposed by nosocomial infections will re-emerge as a potential issue for hospitals.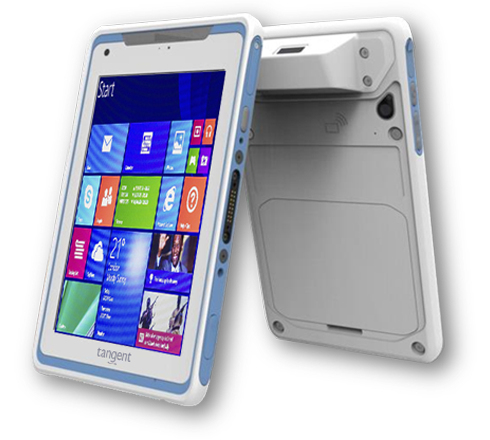 The T13 features an antimicrobial coating which can help reduce the chance of nosocomial infections spreading throughout the hospital. This coating mitigates the growth of harmful bacteria across the tablet's surfaces, helping to keep your hospital sanitary.
24/7 U.S. Based Technical Support
In an emergency, the last thing your doctors will want to do is spend crucial minutes on hold, trying to call for critical technical support. Tangent offers a robust, 24/7 technical support service for all of their medical tablets. This service is available at any time, for any issue large or small.
Our agents are based in the United States, and will be able to understand the problems your team is having with extreme accuracy. With constant availability, your hospital's medical tablets will be back in fighting shape in the rare chance there is an issue with them.
Hot-Swap Battery Ready Medical Tablets
Your doctors are on their feet for a large majority of their shift. Just as they can't always be at their desk to use their medical computers, they can't hang around an outlet and wait for their medical tablet to charge.
Tangent's T13 comes with the option for hot-swap batteries. These batteries can be charged on a separate dock from the T13, and can be switched out with ease. This way, your doctor's medical tablets will always be ready for use.
Improved Your Hospital With Tangent
Now is the time to upgrade your hospital's equipment. There are many reasons to do so, but one stands out above the rest: ensuring your doctors have the equipment they need. For more information, contact Tangent Sales today.