Importance of 60601-1 Certification for Medical Tablets
In the medical field, the general standard IEC 60601-1 is a widely accepted benchmark for medical electrical equipment. It deals with the basic safety and essential performance functions of medical electrical equipment and aims to ensure that no electrical, mechanical, or functional failure poses an unacceptable risk to patients or operators.  Compliance with the standards described in the manual (including newer editions) has largely become a mandatory requirement for electrical medical equipment in many countries, so adherence to it is paramount to any company manufacturing or selling such equipment.
Tangent takes safety standards very seriously for its line of medical tablets, ensuring that they not only meet those requirements, but also offer durable, full-featured, and user-friendly devices. Tangent offers five different medical tables, made to suit a variety of hospital technology needs, and range from nine inches to thirteen inches. All come standard with anti-microbial surfaces, at least an IP54 rated casing, a sleek, but rugged design to withstand the demanding environment of medical facilities, and of course is certified on the 60601-1 standard for medical equipment safety.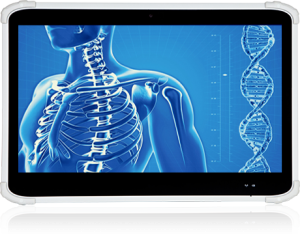 The T13 thirteen inch medical tablet features the Intel Core i7 or i5 CPU, a projected capacitive touchscreen, full slot smart card and SD card readers. Optional features include RFID reader, front and back cameras, 2D barcode scanner, a 4G LTE module, detachable keyboard, charging cradle, and mounting accessories like a desktop charging cradle, and wall/vehicle mounts with VESA 100 ratings. Another great option for added mobility is a hand strap for the medical tablet and\or an integrated stand.  The IP54 rating on this means its protected from dirt, dust, oil, other non-corrosive substances and splashes of water. This workhorse is perfect for users that are on the move and need a reliable, clean, easy-to-read device.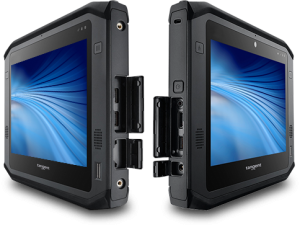 The M10i ten inch medical tablet takes safety and durability ratings to a whole different level with being tested to MIL-STD-810G military standards and having an IP65 rated enclosure, making it safe to be sprayed and wiped clean without damaging the internal components. The MIL-STD-810G environmental testing proves that this tablet will excel throughout its service life in the medical industry by certifying that it can handle stress, vibration and shock. This is all in addition to the 60601-1 certification all Tangent medical tablets carry. This particular tablet features a 4th Generation Intel® Haswell Core™ i processor, and a high brightness multi-touch surface featuring a sun-readable Gorilla Glass panel and digitizer. Other features native to this impressive PC include a  hot-swap battery for 11-hours of uninterrupted operation, dual front and back cameras, TPM 1.2 support, WiFi and Bluetooth. It even has a docking port to easily make use of a monitor and keyboard. It's an extremely full-featured medical tablet that's ready to last a full day of work.
It's tough keeping up with the rigorous standards of the day, especially in regards to medical equipment, but it's a task that Tangent and its medical tablets happily take on and continuously work to improve.