As hospitals reopen for elective procedures and regular appointments, keeping a control on the spread of infections will be more challenging than ever. Screening those who enter the hospital for symptoms can help reduce the chance of infection spread, and allow both patients and medical staff to be confident in their safety. One of the easiest symptoms for hospitals to screen for is fevers, but handheld temperature scanners require medical staff to get precariously near those they are testing. Temperature scanner kiosks remove this barrier to temperature testing, allowing a safe and quick way to  measure a patient or medical staff member's skin temperature before being tested directly for fevers.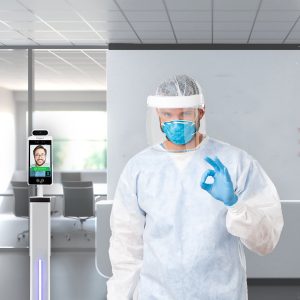 Temperature Scanner Kiosks: Safe and Speedy
The biggest downside to using handheld temperature scanners is that they require medical staff to stand in close proximity to potentially infected persons. With temperature scanner kiosks, this liability is completely eliminated. Patients or medical staff entering a hospital simply have to approach the kiosk, and with touch-free voice commands have their skin temperature taken.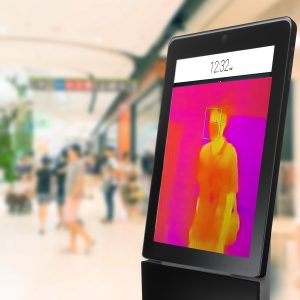 The entire process is done without the presence of medical staff near the kiosk. If a person entering has a temperature outside the preset temperature range that the hospital has set, an alarm will be triggered. This alarm can be silent or audible, and medical staff can then take the appropriate actions to ensure everyone's safety.
How Temperature Scanner Kiosks Work
Temperature scanner kiosks work in a similar way to handheld temperature scanners like temperature scanner guns. They employ a thermal camera that takes the radiated energy from a person to determine their temperature. While temperature scanner guns can see a wide range of error up to .9°C, skin temperature scanner kiosks feature a more accurate thermal camera and have a much smaller range of error that can be as little as .5°C. Tangent's temperature scan kiosk makes full use of its thermal camera to maintain the smallest range of error possible, keeping your patients and medical staff safe.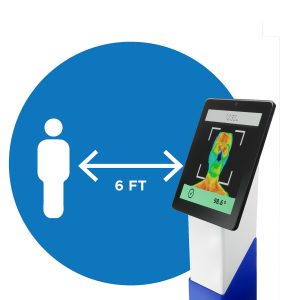 Advanced AI Driven Features
Temperature scanner kiosks from Tangent not only feature the latest thermal camera technology, but also make full use of AI to aid temperature detection efforts. Tangent's kiosk is able to detect when the person being scanned is wearing a face mask, and adjust accordingly. This helps reduce the number of false positives and negatives, ensuring your hospital remains safe. In addition, Tangent's kiosk automatically detects when a person walks into its thermal camera range, aligns them, and begins preparation for thermal camera-based temperature scanning.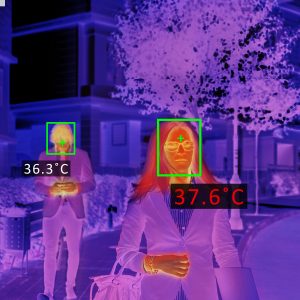 Keep Your Hospital Safe With Tangent Temperature Scanner Kiosks
Fever screening is one of the best ways to detect if a potential patient is infected. With temperature scanner kiosks with thermal cameras from Tangent, medical staff do not have to be put at risk in the beginning process of fever screening. Keep your hospital running safely and securely with Tangent temperature scanning kiosks.