As businesses around the country seek to reopen, getting customers comfortable with returning will be a considerable challenge. One way to make customers feel more safe in their return is to screen entering customers for symptoms of infection. But how can customers be screened for symptoms without putting employees at risk? Infrared temperature scanner kiosks may hold the answer.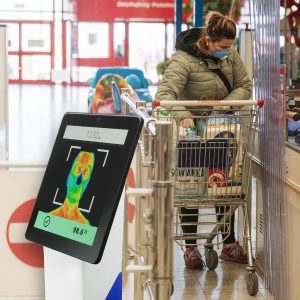 Infrared Temperature Scanners: Detect Elevated Skin Temperatures Immediately
When screening customers for symptoms of infection, the biggest question is what symptom should be screened for. Fevers are an easy and accurate symptom to screen for, as they are relatively easy to detect compared to other symptoms. With an infrared temperature scanner that uses an infrared camera, customers with elevated skin temperatures can easily be detected and handled.
Encourage Social Distancing While Staying Open
While infrared temperature scanners can come in all shapes and sizes, there are benefits and drawbacks to the different kinds. Infrared temperature scanner kiosks are one of the most reliable options. With infrared temperature scanner kiosks, customers can have their skin temperature taken via infrared camera without the need for an employee to be present. This reduces the likelihood of an employee being infected and keeps the entire workplace healthy. Then, with entrants who are cleared can be further tested for fevers with traditional handheld fever scanners, with a reduced risk to employees.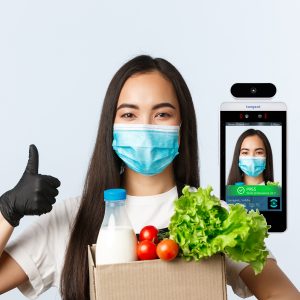 Tangent's Infrared temperature scanner kiosk takes this precaution one step further, allowing customers to have their temperature scanned in a completely touchless experience. Customers are automatically detected by the kiosk's infrared camera upon entry, and can use the kiosk with voice commands. If the customer's temperature is outside the preset temperature range set by your business, a silent or audible alarm is triggered to alert staff. Staff members can then take the needed steps to ensure everyone's safety.
Keep Customers And Employees Safe
With infrared temperature scanner kiosks, both customers and employees can feel safe in returning to their daily activities. Temperature scanner kiosks can be placed easily in lobbies, entry ways, and cash registers to ensure customers with elevated skin temperatures do not come into contact with others. Tangent's kiosk features an option to automatically capture a picture of customers with elevated skin temperatures that can be sent to security for immediate recognition. Even customers with face masks can have their temperature accurately monitored with AI driven technology built directly into Tangents infrared camera kiosks.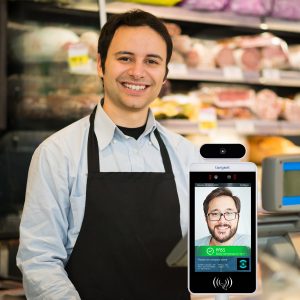 Infrared Temperature Scanner Kiosk: Reopen Confidently
As customers re-enter the world, keeping them feeling safe while shopping will be crucial to every business' success. Help both customers and employees feel safer with the knowledge that those showing symptoms of infection are not allowed into your business with infrared temperature scanner kiosks from Tangent.