The introduction of computers in the workplace has made a litany of everyday tasks more manageable and efficient. Nowhere else is this as clearly seen than in the medical setting. Computers in hospitals have evolved from being simple filing systems to being fully integrated and specialized tools that are indispensable to everyday operations. These computers have forked from traditional workplace computers, and fall under the umbrella term, "Medical Grade PC." Medical grade PCs are custom tailored for the hospital setting, being able to fit directly into your existing networks and customized for every situation.
Safe And Sanitary
Medical grade PCs differ from conventional workplace PCs in many ways that directly cater to hospitals. For instance, all Medical grade PCs come equipped with an antimicrobial enclosure, which mitigates the growth of bacteria and pathogens on the surfaces of the PC. This is vital to keeping the spread of inter-hospital diseases like MRSA or E. coli at a minimum, as medical grade PCs see multiple users(thus germs) throughout the work day. Medical grade PCs give workers peace of mind, allowing them to work freely on their computer without worrying about theirs or their patient's risk of infection. A healthy workplace is an efficient workplace, and medical grade PCs ensure that your workstations are efficient ones.
Versatile And Efficient
Medical workstations on wheels, also referred to as medical carts, are vital to providing medical services throughout the hospital. When equipped with medical grade PCs, these carts become invaluable to administering care to multiple patients. Conventional workplace computers rely on mounted batteries that would force medical carts to spend time out of commision while charging. Medical grade PCs such as the Medix T24B from Tangent come equipped with hot-swap battery technology, allowing for medical carts to remain fully active throughout the day. Being able to swap out batteries means that you don't need multiple medical carts to cover ones that are charging, one medical cart with a medical grade PC equipped will perform more than adequately.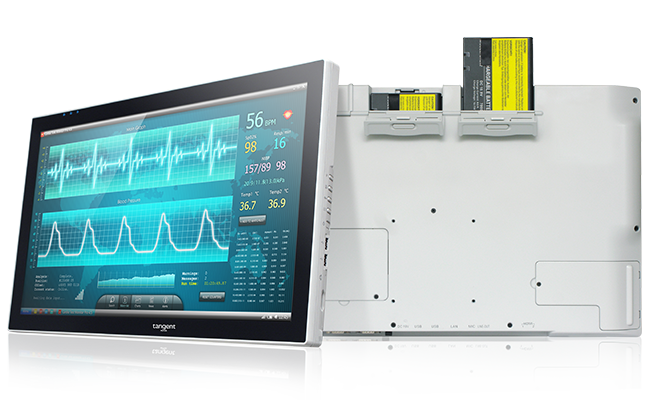 Clear And Accurate
Having accurate information is critical to patient care, a misdiagnosis or misinterpretation can have a lasting impact on not only your patient's health, but your hospital's reputation. Medical grade PCs are built with this fact in mind, and when paired with a Medical LCD Monitor from Tangent, produce precisely accurate information through DICOM technology. This technology constantly analyzes display information from your medical grade PC, compares how it should be displayed with how it will appear on screen, and adjusts the resulting image correctly to ensure that the information displayed is accurate. Whether displaying medical records or x-rays, medical LCD monitors are the best way to display information from a medical grade PC.