While some industrial spaces restrict the amount of dust circulating throughout the facility, the matter of the fact is that most industrial facilities harbor dust and other pollutants. While workers can easily avoid this dust, their industrial computers may not be as lucky. Typical industrial computers require outside air be brought into the case in order to cool off the delicate central processing units (CPUs), normally via a fan based cooling system. Without proper cooling, CPUs can overheat, rendering  the entire industrial computer useless.
However, the very same system that preserves the integrity of the CPU can actually cause long term harm as well. Fan based cooling systems excel in environments where air is filtered on a regular basis, such as in offices or at home, but falter when used in dusty environments. CPUs are cooled when their fans pass cool air through what is known as a heat sink, which appears as a metal comb elongated so that it's teeth are inches wide. Typically, heat transfers from the CPU to the teeth of the heat sink, where cool air circulated by the fan removes the heat from the heat sink to the outside of the case. 
In a dusty environment, the air brought in by the industrial computer's fan slowly builds up along the channels between the heat sink's teeth. Overtime, the heatsink's channels begin to be impassable to fresh air, and the heatsink has no way of expelling heat. The heatsink continuously heats up, and eventually the excess heat begins damaging the CPU. 
Fanless Computers: Working Where Others Can't
Fanless computers are an elegant solution to this conundrum, circulating no air throughout the body of the industrial computer. Without a fan, no dust builds up in the industrial computer and it remains functional even in the dustiest of environments. Fanless computers function in the same way traditional industrial computers operate, except that they feature a passive cooling system. 
This passive cooling system is just as, if not more, reliable than fan based cooling systems without opening up the industrial computer to the dusty environment it exists in. The industrial PC fanless solution solves one of the biggest problems for industrial computers, opening them up to a wider range of use.
Industrial PC Fanless Solution: Rugged Mini E3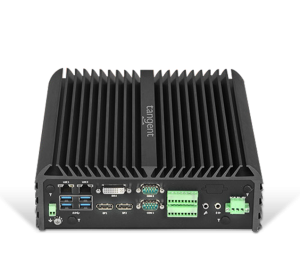 Without a fan, the Rugged Mini E3 from Tangent makes full use of the industrial PC fanless solution. Capable of working environments where temperatures can reach up to a scorching 158°F, the Rugged Mini E3 is one fanless computer that proves fans are not necessary to maintain proper cooling. With up to 32 gigabytes of RAM and a 6th Intel processor, the Rugged Mini E3 fanless computer can easily handle any industrial program you throw at it.
Industrial PC Fanless Solution: Rugged Mini S
Proving that industrial computing power does not have to be limited to a desk, the Rugged Mini S from Tangent is built to be used on the go. As an in-vehicle computer, the Rugged Mini S is capable of utilizing a wide range of voltages starting as low as 9 VDC and up to 28 VDC. With this kind of versatility, the Rugged Mini S fanless computer is the perfect companion for nearly every worker in a vehicle. With built-in Wifi and Bluetooth, the Rugged Mini S is capable of being used anywhere in a facility, and especially while on the move.
Industrial PC Fanless Solution: Rugged Mini G
Whether it's in a mill, foundry, or factory, the Rugged Mini G Fanless Computer from Tangent is ready to excel. With an operating temperature range of 14° to 131°F, the Rugged Mini G is capable of handling life in facilities with wide fluctuations in temperature with ease. This fanless computer comes with either Wall Mount, VESA 75/100, or DIN Rail mounting systems, making it a flexible addition to your industrial computer fleet.
Industrial PC Fanless Solutions: The Right Choice
While every facility has its own unique needs, there is not a single one that won't benefit from the introduction of fanless computers. With fanless computers, your industrial computers can operate longer with less maintenance and perform in environments where their fan based peers simply cannot.