There's no doubt that Industrial PCs are a vital part of every industrial facility. But sometimes, for various reasons, a smaller approach may be preferred. That's where Mini PCs from Tangent come in. Mini PCs are Industrial PCs that come in small yet powerful form. Rugged Mini PCs are perfect for situations where space is of the utmost concern, but powerful processing power is still required. At Tangent, our lineup of Mini PCs are built for the most demanding applications practiced—whether that's inside or outside the factory.
High Performance Mini PCs
Embedded control systems don't have to be tethered to large Industrial PCs. With high performance Rugged Mini PCs from Tangent, embedded control systems can run on a small yet powerful device directly adjacent to the system being controlled. Whether it's suspension or fluid levels, there's a Rugged Mini PC from Tangent that can control it. Rugged Mini PCs like the Rugged Mini O from Tangent are IP69K certified waterproof and can withstand temperatures from -4°F – 140°F, making it the perfect controller for nearly every application.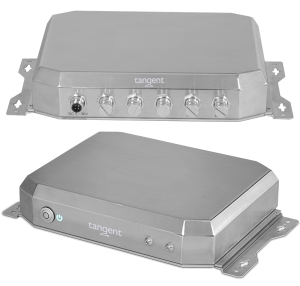 Fanless Mini PCs
Digital Signs are not an industrial endeavor, but nevertheless experience industrial grade conditions. Digital signs posted outside can be exposed to sun damage, dust, and blistering hot summer days. In order to keep these signs running, Tangent has designed Rugged Mini PCs like the Rugged Mini L2 to be fanless, thus making them perfect for digital signage. Without fans, there is no risk of dust buildup in the Rugged Mini PCs, allowing it to withstand all the rigors of outdoor life without constant maintenance.
Interactive Kiosks can face similar problems when exposed in the elements. Even more so when these Kiosks offer the user a touchscreen interface. In order to keep these Kiosks from quickly being worn out by daily use, employing Mini PCs from Tangent is crucial. Mini PCs like the Rugged Mini Tank ensures that your kiosk, quite literally, will be built like a tank. Meeting official military grade standards, the Rugged Mini Tank is the perfect Mini PC for interactive kiosks that see daily use.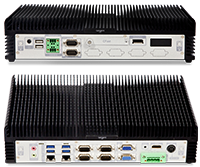 Mini PCs: Perfect For Every Occasion
Whether it's inside or outside the factory, Mini Industrial PCs can find applications in nearly any environment. These industrial PCs are custom built to be able to withstand any industrial application, making them perfect for situations that see just as many rugged conditions as factories see. With Mini Industrial PCs from tangent, there is nothing that can't be done with industrial efficiency.