Calling a device "rugged" has lost most of its meaning in an age where supposedly rugged phones shatter from a small fall. But at Tangent, rugged isn't just a simple marketing term, it's a limit being constantly pushed against. Rugged mini PCs from Tangent are built from military grade components and tested in the harshest environments factories have to offer to produce computers capable of a long and productive life. 
No Moving Parts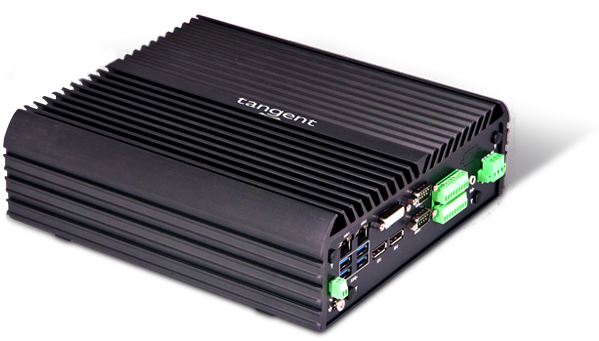 Rugged mini PCs from Tangent have no moving parts whatsoever, meaning that a fatal drop for a commercial PC is nothing more than a small jolt for a rugged mini PC. Rugged mini PCs like the Rugged Mini E3 are equipped with solid state drives(SSD) that unlike normal hard drives, do not contain any fragile spinning disks. In addition, an advanced fanless cooling apparatus ensures that rugged pcs from Tangent remain at optimal temperatures without drawing in dust or other fatal contaminants from the factory floor.
Customizability
Don't let their small size fool you, rugged mini PCs are just as capable as their macro counterparts, and far more versatile. Rugged mini pcs from Tangent are small enough to be placed on a forklift or other vehicle, and their wide range of power input options means that they can be powered by the vehicle they are attached to. Lightning fast intel processors combined with watchdog timers work to make your factory floor as efficient as possible, without errors commonly found in commercial computers. But like commercial computers, rugged pcs from Tangent run Windows operating system, meaning that they are just as easy to use and customizable as your own desktop computer.
Connectivity
Rugged mini pcs are the epitome of portability, and can be placed nearly anywhere on the factory floor. But some rugged pc companies subtract from their products' capabilities by not building wi-fi capabilities into them.
Not at Tangent.
Every Rugged mini PC sold by Tangent, such as the Rugged Mini O, can utilize WLAN technology to connect to your existing Wi-fi network. Other rugged pc companies put 3G/4G/LTE chips into their rugged mini pcs, which require separate internet plans and cause you to in effect pay twice for the same thing. Rugged mini pcs from tangent save you this hassle, and ensure that all of your factory's data can sit on one safe network.
Rugged mini PCs from Tangent are at the forefront of factory floor innovation, being able to work under the harshest conditions the floor has to offer without sacrificing in any department.