We've come a long way since the days when computers would take up an entire warehouse sized room. Today's computers are far more powerful than anything in the past, while also being small enough for use in nearly any setting. But sometimes even small tower based PCs can seem too big for an office space. 
According to real estate information provider CoStar, average square footage per office employee fell from 197.3 square feet in 2010 to 182 square feet in 2017. As offices get smaller, tower PCs become less of a convenience and more of a space taker. That's where Mini PCs come in, providing the same power as traditional desktop PCs in a small case. Mini PCs do not take up floor or desk space at the rate tower PCs do, and can be mounted underneath desks, behind monitors, and in multiple other convenient locations.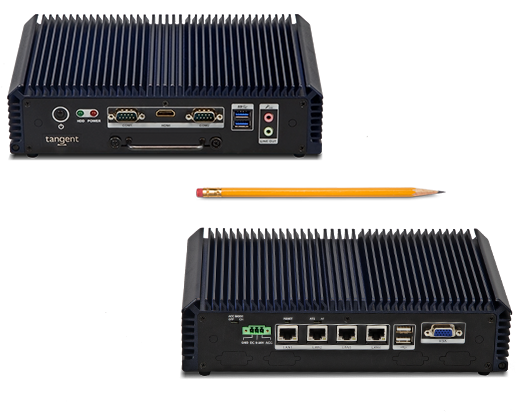 Many Advantages
Small Size

: Mini PCs aren't just small⁠—they are extremely small. With enclosures as small as your uncle's copy of

Moby Dick

and some weighing less than a gallon of milk, Mini PCs can fit into nearly any work environment. 
Flexible Mounting Options

: As offices get smaller, so to do the number of ways to organize the office space, and designing an office space entirely around where a computer can fit can make the entire setup a hassle. Mini PCs can be mounted in numerous ways, from standard VESA mounting options to DIN RAIL and even behind-the-monitor solutions.
Durability

: Mini PCs are built to be able to withstand harsh environments and drops with ease. Fanless Mini Pcs are not only built tough, but they are virtually silent and won't be a workplace distraction.
Customizability

: Mini PCs come in many different sizes and configurations, each designed to be an effective part of a computing ecosystem. Tangent offers Mini PCs for nearly every workstation, so whether they're for behind the desk work or in digital signage apparatus, Mini PCs are up to the task.
Real estate prices are going up and office spaces are getting smaller everyday. Making sure that your employees can be as productive as possible in their given space is critical to an efficient work environment. Mini PCs can help alleviate office congestion, and make cramped offices feel less crowded, boosting employee morale.