As hospitals increasingly computerize their workstations, the use of paper records has dropped considerably. While the introduction of computers in the hospital space has drastically increased their efficiency, the mobility of information that physical paper records entailed was nearly lost. This is where Medical Tablets found their niche, offering the same benefits as medical PCS and paper based records in one package. But what exactly is a medical tablet, and what are they used for?
Medical tablets are custom built tablets specially designed for the healthcare setting. There are many things that seperate medical tablets from their commercial counterparts, but to name a few:
Antimicrobial Enclosure

– Commercial tablets are much like phones in that their surfaces are bacteria riddled, being some of the dirtiest surfaces we touch on a regular basis. Clearly in the medical setting, this would not do. Medical tablets feature antimicrobial enclosures, which inhibit the growth of bacteria on all surfaces of the tablet. All medical PCs feature such enclosures, but their inclusion on medical tablets that can be passed through multiple provider and patient hands in a day is paramount.
Hot-Swap Batteries

– No one likes waiting around an outlet for hours while their phone charges, and in the medical setting there is no time to wait around while your medical tablet recharges. That's why medical tablets like the

Medix T13 Medical Tablet

from Tangent come equipped with Hot-Swap battery technology, which allows for batteries to be independently charged from the tablet for later use. Hot-Swap batteries ensure that your medical tablets will have 100% uptime while on the job, and give your staff one less thing to worry about while helping patients.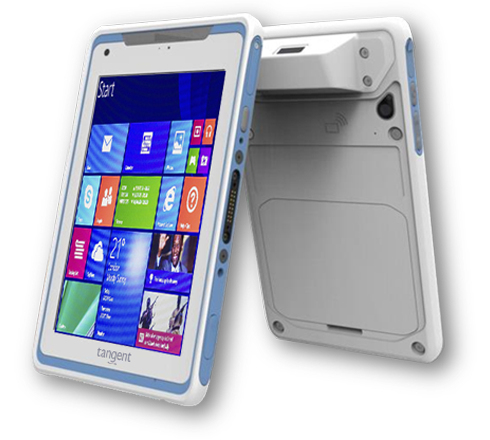 Security Features

– Abiding by HIPPA regulations is critical to hospitals providing safe and effective healthcare, and medical tablets are built to help hospitals meet these guidelines. Medical tablets like the

Medix M8 Medical Tablet

from Tangent have built-in smartcard readers, to ensure that only approved medical staff are accessing pertinent medical information.
These features, added together, ensure that medical tablets are the perfect computer for a wide variety of hospital computing jobs. Antimicrobial enclosures allow medical tablets to be passed between patient and staff member without worry of spreading harmful infections. Hot-Swap batteries enable medical tablets to operate on medical carts without needing to wait to be charged. Enhanced security features ensure that patient data is safe, and only accessible to those who are cleared. Medical tablets fill in the gap that paper records left when they were replaced with computers, and they fill this gap exceptionally better than paper ever could.