As the holiday season approaches, hospitals around the country are not feeling the season's cheer. 0% ICU capacity in Los Angeles is a grim picture that may be painted in other parts of the country after the holiday season, as the Thanksgiving bump in cases may repeat itself. Already, airports are reporting the number of travelers has grown to pre-Thanksgiving levels, showing that yet another holiday bump may be on the horizon.
How can hospitals prepare for another large surge in cases when they are already at capacity? Stretching resources, and utilizing medical computers may be one solution. But which medical computers are the best for hospitals during this pivotal moment? Medical computers that not only meet, but exceed medical standards.
Meeting and Exceeding Medical Standards
When it comes to creating the perfect medical computers for hospitals, Tangent has pulled out all of the stops. Tangent medical computers meet all federal standards for medical devices and are UL-60601 certified. But Tangent has gone further.
Each of Tangent's touchscreen medical computers comes with a fully flush IP65 rated water resistant front panel. This allows each Tangent medical computer, like the M24T, to be easily and safely cleaned.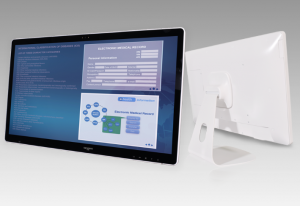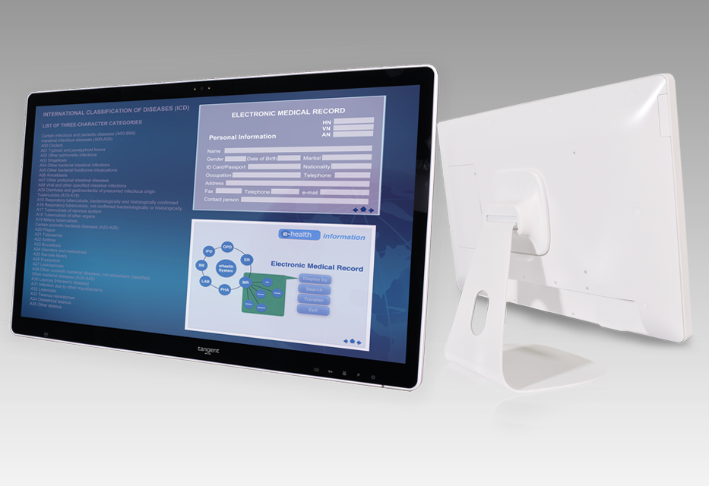 But that's not all. Tangent's medical computers are designed to be helpful in the hospital, not harmful. To ensure this, Tangent's medical grade computers come with antimicrobial casings. These casings mitigate the growth of harmful pathogens on their surfaces, meaning that doctors and nurses can use these computers without worrying about potentially spreading pathogens to coworkers. In addition to regular cleaning, Tangent's antimicrobial enclosures help keep hospitals safe.
Tangent Medical Computers: As Fast As Your Hospital
When used in the hospital, medical computers need to be as fast as your doctors and nurses. This fact is more important than ever, when each and every second of your medical staff's time is so crucial. Tangent medical computers are built to keep your doctors moving. With large amounts of RAM, storage, and cutting edge Intel processors, Tangent medical grade computers can handle numerous medical programs with ease and speed. When your doctors need to use a medical computer, make sure they don't have to wait longer than needed with Tangent.
Tangent: Here To Help
Tangent medical computers are designed and built to help hospitals. Part of Tangent's design philosophy has always been to exceed medical standards, and our lineup of medical grade computers is proof of this. Let Tangent help your hospital get through these trying times with the latest and best medical computers. Contact Tangent Sales Today for more information.