While it may seem that every medical computer is built the same, this is simply not the case. During this pandemic, hospitals need the absolute best tools to use at their discretion. That's why Tangent medical computers are designed to be versatile tools built for hospital use. Here are three reasons why hospitals need Tangent medical grade computers for their doctors.
Prevent Nosocomial Infections
Now, more than ever, preventing inter-hospital infections is more important than ever. Typically, infections that occur in the hospital are referred to as Nosocomial infections. These can include diseases such as Staphylococcus aureus, Pseudomonas aeruginosa, and E. coli. Now however, this can also include infections due to the pandemic. As we head into flu season, preventing nosocomial infections of all kinds is crucial to the wellbeing of hospitals everywhere.
In order to help prevent nosocomial infections, Tangent medical computers come equipped with antimicrobial touchscreens. These touchscreens on medical computers like the M24T are fully adaptive and precise, allowing doctors to easily access patient records and information just as fast as they use their own cell phones. With antimicrobial coatings, disease causing pathogens are unable to survive on the surface of Tangent medical computer screens and quickly die off. This built-in sanitizing system can help prevent doctors from spreading infections to one another via commonly shared medical computers.
IP65-Rated Water Resistant And Dust Sealed
Tangent medical computers feature antimicrobial touchscreens to keep hospitals clean. In addition to these antimicrobial touchscreens, Tangent medical computers are IP rated to be water and dust resistant. IP ratings allow medical grade computers like the Medix 22 to be cleaned regularly without worry of internal damage to the computer. With medical computers from Tangent, both the front and back panels fo the medical computer can be cleaned easily and safely.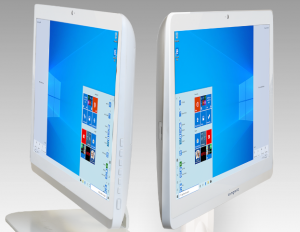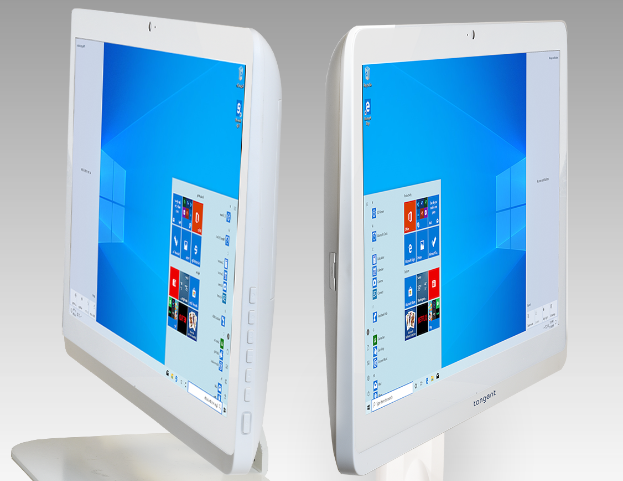 With the IP rating also comes a sealed design that mitigates the growth of pathogens inside the medical computer as well. With a fanless cooling system, the Medix 22 does not build up dust inside its enclosure, keeping maintenance requirements low and bacteria breeding grounds absent.
Built-in Telehealth And Telemedicine Capabilities
The pandemic has forced many healthcare providers to rely on telehealth and telemedicine services. Likewise, some medical computer companies have had to scramble to produce medical computers built for telehealth and telemedicine.
But at Tangent, every medical computer has been built with telemedicine in mind since before the pandemic began. Tangent believes that telemedicine is a vital technology that has allowed mobility-impaired individuals to get the quality medical care they deserve. Now, everyone from those who are healthy to those who are at-risk can make use of virtual medical appointments to get the care they need.
Tangent medical computers have built in front-facing cameras and solid network capabilities that allow for clear and accurate virtual appointments
Tangent Medical Computers: The Best For Hospitals
These are just three of many reasons why Tangent medical computers are needed in hospitals. To learn a few more, contact Tangent Sales today.