It's no secret that telehealth has become a vital part of medical care across the country. As the pandemic continues to worsen, hospitals are seeing staffing shortages. Telehealth on medical computers helps fill in the gaps left by staffing shortages, allowing doctors to see more patients in a day than would typically be possible. The American Medical Association has called for the pandemic-related waivers that make telehealth possible to be expanded with the recently introduced Telehealth Modernization Act.
But it's not just traditional medical appointments that benefit from being transformed into telehealth appointments on medical computers. Therapy and mental health appointments can — and have — also greatly benefit from being done on telehealth enabled devices.
Therapy Appointments Using Telehealth
The Harvard Business Review recently took a look at the pros and cons of therapy and psychiatry appointments via telehealth. Here's what they found,
"The payoff can be huge: a cascade of improvements to EHRs, integration of digital clinical data and collateral information, a data-driven approach to clinical decision-making, more tailored clinical monitoring and responsiveness, and a sustainable model for personalized care at scale."
When telehealth on medical computers becomes normalized, the success of therapy appointments on the whole can be greatly expanded.
Efficient Appoints Using Telehealth
One of the main drawbacks to physical appointments is their length. Patients must check-in, be roomed, and screened by medical assistants. This process occurs on the hospital's time, and requires rooms be made available to patients even before they are being treated. Furthermore, during this pandemic, these rooms can be used for other vital work or even transformed into additional ICU space.
With medical computers, doctors can use their office to virtually "room" scores of patients in a single day. Patients can fill out forms and be screened on their own time, and doctors can see one patient after another without clogging up the hospital's supply of rooms.
Furthermore, at-risk patients that have underlying diseases in addition to their mental illnesses do not have to be put in harm's way by entering the actual hospital. They can remain safe at their homes, and doctors likewise do not have to come into contact with more people than is absolutely necessary.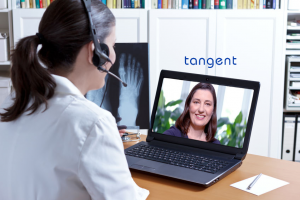 Medical grade computers from Tangent, in addition to being built for Telehealth, are antimicrobial. This means that their casing mitigates the growth of harmful pathogens on its surface, keeping your doctors safer while they do their vital work.
Tangent: Here To Help With Telehealth
Tangent medical computers are custom built for telehealth applications, and can help your doctors virtually meet with more patients than ever. When resources are stretched thin, your hospital can rely on Tangent to fill in the gaps. Contact Tangent Sales today for more information.