Telehealth has become a lifeline for doctors and patients seeking to establish some sense of normality during these trying times. While telehealth has been around long before the pandemic began, it's use has skyrocketed. According to GlobalData, 79% of medical specialists said they were now using telemedicine in their hospital setting, setting a trend of using this technology may not be quick to fade. At-risk patients can safely see their doctors without being put in harm's way, and doctors have to interact in close contact with fewer people on a daily basis.
This win-win situation has been made easier than ever thanks to loosening restrictions. Federal agencies, insurance companies, and hospitals have all made the use of medical grade computers for telehealth possible. As more doctors and patients become accustomed to telemedicine, regulators have been considering keeping these restrictions loosened. If this is the case then telemedicine may be here to stay, and choosing the right medical grade computers to use will be crucial to every hospital's success.
Medical Grade Computers Built For Telemedicine
Not every medical grade computer is built specifically for telemedicine, in fact most are not. A good medical grade computer for telemedicine should be designed for virtual meetings, like the newly enhanced H22 from Tangent. The H22 medical computer from Tangent is a freshly designed computer ready for telemedicine.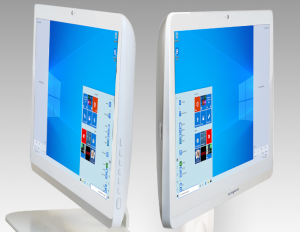 Sporting a front-facing camera and fully santiziable touchscreen, doctors can easily and safely talk to patients virtually. The H22 medical grade computer's antimicrobial mitigates the growth of pathogens and helps keep your hospital safe.
Talk To Patients On The Move
Your doctors are busy, and their time is precious. Telemedicine helps doctors see more patients virtually, but requires them to be firmly planted at their desk. That is, unless they use medical grade computer tablets like the T13 from Tangent. With the T13 medical tablet, doctors can analyze patient charts, catch up on their emails, and even start or end telehealth appointments while on the move. Your doctors can effectively be in two places at once with medical grade tablets in their hands.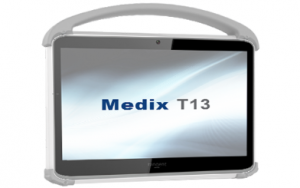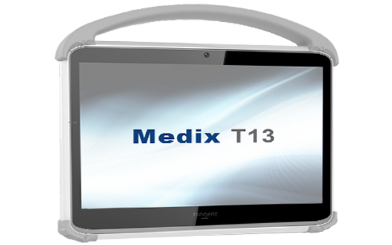 Create A Healthy Hospital With Tangent
It's not easy to maintain a safe indoors environment, but there are ways to help this upkeep. Telemedicine appointments help lessen the amount of people physically present in the hospital, aiding social distancing efforts and relieving stress for many. In addition, telemedicine through antimicrobial medical computers can help reduce the risk of contact-based transmission.
Your doctors need tools that they can not only rely on, but ones they can trust to do more good than harm. With Tangent medical grade computers, doctors can perform their vital work without worry. Contact Tangent Sales today for more information on telemedicine and medical computers.