The automobile industry famously pioneered the assembly line, and since then has constantly innovated the manufacturing process of automobiles. In the information age, this innovation can be seen in the increasingly-computerized factory floor's ability to produce cars with maximum efficiency. However, outdated or mismatched industrial computers can have the reverse effect on a factory, slowing down the assembly line and robbing the floor of productivity.
That's where All-In-One PCs from Tangent can make the difference, providing factories with a standardized approach to computing. With All-In-One PCs, every computer in a factory can be the same model, from logistics control systems to RFID scanners. Having standardized industrial computers on the factory floor means that workers operating multiple stations throughout the day won't have to readjust every time they encounter a new computer. Instead, workers can move confidently from station to station without any hiccups, improving efficiency dramatically.
The factory floor can be a harsh environment, and it may seem as though All-In-One PCs can't take the punishment required of an industrial computer. But the All-In-One PCs from Tangent not only meet the standards set by industrial computers, they exceed them. For instance, the R14 All-In-One PC from Tangent not only features military grade shock resistance, but IP65 water resistance. The R14 All-In-One PC also comes with a magnesium alloy casing, making it 33% lighter than traditional aluminum housed industrial computers, but just as durable. The R14 clocks in at a mere 4.3 pounds, this lightweightness coupled with an up-to 18 hour battery life means that workers can rely on the R15 to be both an ergonomic and lasting tool for their entire work day.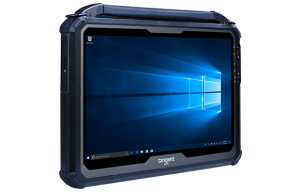 For areas with minimal worker movement, the VITA KW All-In-One PC line from Tangent provides a mounted industrial computer solution. The VITA KW line sports four different sized computers, ensuring that no matter the size of a work area, there will be room for a Tangent All-In-One PC. When equipped with the RFID reading module, the VITA KW line can process automotive parts moving around the factory without needing outside peripherals to do so. The VITA KW line also sports impressively durable touch screens that are rated for IP65 water resistance, ensuring that the ease of access workers come to expect with the R14 line of tablets will be met by the VITA KW line.
Both the R14 and VITA KW line All-In-One PCs come with one year warranties and 24/7 United States based technical support. No matter the time of day, if there is ever a problem on the factory floor, it  can be immediately resolved with the least impact on productivity. When it comes to creating or updating an assembly line, Tangent All-In-One PCs provide the computing power and durability necessary to make it an efficient one.