Doctors wear many hats during a shift. They may start the day by visiting with patients for routine visits, and end it with handling an emergency. Days in the hospital are uncertain to say the least. Doctors need dependable equipment that can adapt to any situation that they may find themselves in. Medical grade, all-in-one computers can help doctors in virtually every situation. Doctors can feel confident and comfortable with their equipment when they have an all-in-one computer by their side.
All-In-One Computer: Clean And Sanitary
This pandemic has shown just how important hospital safety is. While hospitals have always been cautious about the risk of nosocomial infections, the pandemic offered many new challenges. Face masks, social distancing, and increased hygiene helped reduce the spread of the virus in hospitals. Regular cleaning with disinfectants played no small role, helping to ensure a sanitary environment was present.
But what about devices that staff were unable to sanitize? Some all-in-one computers cannot handle being regularly sanitized. This poses a serious risk to your hospital when considering that computer keyboards are up to 20,000 times more dirty than toilet seats. However, not all all-in-one computers are built equally.
All-in-one computers like the E24B from Tangent feature an IP rated, fully washable touchscreen. Not only does this washable touchscreen eliminate the need for a keyboard, but it also can help reduce the risk of disease spread. Staff can clean the screen with traditional detergents regularly. 
All of Tangent's medical grade all-in-one computers also come equipped with an antimicrobial coating. This coating mitigates the growth of bacteria on the surfaces of the computer, further increasing the safety in your hospital.
Better Communications Throughout The Hospital
Doctors need to be available at all times for urgent matters in the hospital. That's why they carry pagers and beepers. But these devices can only send a limited amount of information to a doctor, telling them what's happening and where to go but not giving specific details.
When doctors are responding to an emergency, they need all the information they can get. That's where all-in-one computers like the T13 come in. The T13 from Tangent is a versatile all-in-one computer that can be carried by your doctors while they make their rounds. In the event of an emergency, doctors can use their pager to get the gist of what's going on. They can then use their T13 all-in-one computer while on the move, looking at a patient's medical history and prescriptions.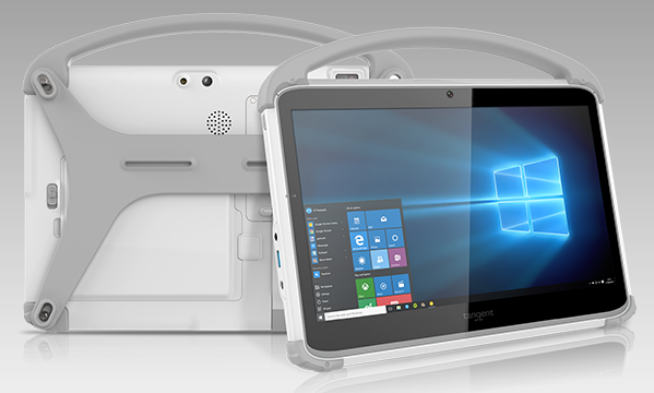 The T13 turns your doctor's pager into a full-fledged all-in-one computer. They can send emails, receive lab results, and contact patients from anywhere within the hospital.
Envision A Better Hospital With Tangent.
Doctors have helped countless hospitals emerge from the pandemic as safer, healthier places to work. Give them the tools they need to continue to perform their jobs in the best possible way. For more information on all-in-one computers, contact Tangent Sales today.