While it is impossible to create a completely sterile hospital, mitigating the spread of germs is a must in any medical setting. The concentration of sick individuals in a hospital means that every surface is a potential breeding ground for harmful bacteria. The many surfaces of medical computers are no exception to this, and the need for doctors to go back and forth from patient to keyboard puts these surfaces at greater risk. That's why all medical computers today are antimicrobial computers that halt the growth and spread of dangerous bacteria on their surfaces.
Antimicrobial computers are, simply put, computers that are treated to inhibit the growth of microorganisms on their surfaces. Manufacturers produce antimicrobial computers by coating the surfaces of the computer with an antimicrobial chemical that is harmful to microorganisms, but have no effect on humans. Some metals, such as copper and silver, exhibit natural antimicrobial properties and are used in certain areas for this property. However, when it comes to antimicrobial computers, coating their surfaces and screens with antimicrobial chemicals is the standard approach.
The International Electrotechnical Commission(IEC) has set out a series of guidelines known as IEC60601 for medical computers to abide by. In order for a medical computer to be sold in the United States, it must meet an altered version of the standards produced by the United States called UL60601. One of the key components of these guidelines is the requirement for computers used in the medical setting to be antimicrobial computers. There are many other requirements for an antimicrobial computer to be UL60601 certified, but the antimicrobial requirement is critical to driving down patient infection rates.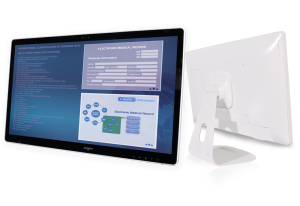 So where do you find UL60601 certified medical computers? At Tangent, our entire selection of medical computers not only meet all of the UL60601 guidelines, but also EIC60601  guidelines, and are IP certified water resistant. The M24T antimicrobial computer from Tangent meets both sets of guidelines, providing professional medical staff a safe, reliable desktop computer for the exam room. For on-the-go access or for medical carts, there is the Medix T-13 antimicrobial tablet from Tangent. The Medix T-13 features the same UL/EIC60601 certifications as the M24T in a small, portable tablet perfect for medical cart usage. 
Everyday, hospitals see a see a stream of patients flow in, and a seperate one flow out. A perfectly healthy person could enter a hospital, and leave with a disease carrying microorganism hitching a ride on them unknowingly. Halting the growth of these microorganisms is not only a matter of hospital safety, but a matter of public health. Antimicrobial computers from Tangent help reduce the likelihood of a sick patient spreading their illness to other patients by ensuring that when a doctor or other healthcare professional is helping a patient, they don't have to worry about their computer becoming a breeding ground for germs.