It may seem like everyday, a news outlet discusses the impending smart factory revolution. While this phrase may seem like a buzzword, the smart factory revolution has been underway for some time. Most recently, Alibaba has gotten in on the trend and has begun looking at how they can revolutionize chinese facilities.
It's no secret that chinese manufacturers have, for some time now, outpaced and outnumbered American manufacturers. But now, with smart factories becoming the norm this outpacing could accelerate. In order to stay competitive, U.S. manufacturers will need to join in on the smart factory revolution. Luckily, Tangent and their lineup of industrial grade computers are here to help.
Tangent: Designed For The Future
Unlike other industrial computer companies, Tangent doesn't design their industrial computers for today. They design them for tomorrow. Take, for instance, the Rugged Mini O from Tangent. The Tangent Mini O is the perfect industrial computer for situations where other computers couldn't last a day. With a rugged IP69K dust and waterproof rating, the Mini O is capable of being placed in nearly every industrial environment. Not only can it survive in grueling conditions, but it can thrive while doing so. With 24/7 U.S. based support included, the Rugged Mini O is one industrial computer that won't quit today, tomorrow, or any time soon.
Tangent: Prepared For What's Next
Of course, it wouldn't matter that Tangent's industrial computers can last multiple years unless they had components that are futureproofed for that long. Tangent has, of course, designed their industrial computers with futureproofing in mind. Each industrial computer comes with some of the latest Intel processors, a hefty amount of RAM, and customization options like optional SSD storage. With these computer components, Tangent industrial computers can stay relevant on your production line far longer than other industrial computers could.
Tangent: Many Options For Your Needs
Tangent knows that there's no one-size-fits-all solution to your computing needs. But, there are all-in-one industrial computers that can help. Tangent's all-in-one industrial computers are fully fledged industrial computers that can run industrial applications, have touchscreens, and can be mobile.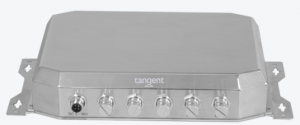 Don't have enough room for an industrial computer?Look no further than Tangent's mini rugged industrial computer lineup. Like the Rugged Mini O, all of Tangent's mini rugged computers are designed to save space without compromising power.
With Tangent, there's always a solution to fit your computing needs.
Smart Factories Of Tomorrow, Today
Turning your facility into a smart factory is no longer an option, but a competitive necessity. With Tangent industrial computers, this transition can be both painless and productive. Contact Tangent Sales today to learn more about our lineup of industrial computers.