While vaccinations have begun across the world, it will take months for the ramifications of these injections to have an effect. Until then, the pandemic is still on, and currently more threatening than ever. A recent CNN article dove into the hospitals of L.A. County in California, and gave first hand accounts of the crisis unfolding there.
One top County health official said that they were on "brink of catastrophe." as of December 31, 21,449 Covid-19 patients were in hospital beds in California, with 4,500 in ICU beds. CNN reports that L.A. mayor Eric Garcetti said, "We are still going to have our toughest and darkest days, it's so critical we change our behavior."
The picture in California is grim, and can easily be painted across the entire nation in the coming months. Hospitals around the country need to prepare now for a situation like California's to happen in their own backyard. With the new, intensely-more infectious U.K. virus variant being detected in the United States, a rise in cases seems unavoidable.
Meeting Surging Hospitalizations
The name of the game is preparation, and Tangent is here to help. While it may seem like medical grade computers are not a good way of preparing for surging hospitalizations, this could not be further from the truth. Medical grade computers like the M24T from Tangent free up doctor's time, and allows them to see more patients in small time frames.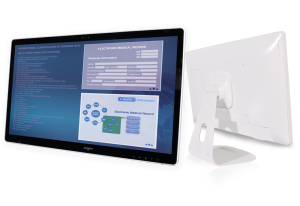 Medical grade computers by Tangent are lightning fast, and designed for rapid use. With them, doctors can do their clerical work faster and easier by using their adaptive touchscreens. Telehealth appointments can be done quickly and safely without doctors needing to waste time fumbling with older computers.
What's more: Tangent's full lineup of medical computers are antimicrobial. Their enclosures have been treated to mitigate the growth of harmful bacteria on all surfaces. Combined with IP rated water resistant touch screens that can easily be sanitized, Tangent medical computers are designed to be an aid in medical settings.
Meet The Pandemic Head-On With Tangent
This pandemic has forced hospitals to make difficult decisions and adapt on the fly. Tangent understands the concerns of hospitals and how to help them get through this challenging period. With Tangent medical computers by your doctors' sides, they can feel safe and confident in the days ahead. Contact Tangent Sales today For more information.