The average company doesn't typically replace their computers all at once in a mass hardware refresh. Over years of use, certain models are phased out for newer ones or replaced because of age. And as business processes change and newer software suites require specific system configurations, a wide assortment of computer systems tend to be introduced to the organization. A single type of PC or laptop doesn't usually suit the needs for all workflows and users, especially in larger enterprises. With such a variety of hardware needs, the lives of the folks in an IT purchasing department are made incredibly easier when they have a single trusted supplier of computer solutions and services.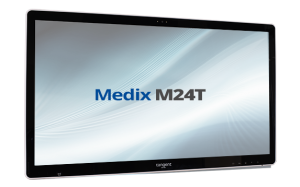 Tangent offers dozens of types of computers in a variety of sizes ranging from large 24" medical grade all-in-one PCs to powerful tablets to the most minuscule of rugged industrial mini PCs. They are designed to excel in durability, longevity, and performance in most any working environment. Because business doesn't just happen in corporate offices, Tangent pours its attention into all types of potential work settings and use cases, whether it be a video editing system in a news van or a data entry computer in a clean room. Tangent's medical all-in-one PCs are largely designed for use in the healthcare industry but are excellent for any organization that needs protection from environmental infection control and isolation precautions. Their line of business all-in-one PCs are perfect as clean, efficient workstations in places like call centers, home offices, internet cafes, libraries, and more. And if space is a concern, a mini PC is a good consideration.
A mini PC is perfect for small spaces like in vehicles, tractors, and airplanes, or for use as a timeclock or as an outdoor computer. All of the computers in Tangent's product line are easy to sanitize and boast a long useful life due largely to a fanless operation and IP rated protection against contamination and water ingress into the system. The mini PCs have the added benefits of being shock and vibration proof and being able to withstand operating temperatures of up to 158 degrees Fahrenheit. They are excellent for video monitoring systems, factory automation systems, or as network controllers. As different as the purposes for Tangent's all-in-one and mini computer systems can be, they are both built to provide the best in performance, reliability, and flexibility.