Fanless Computers: Still running cool!
Making a computer with a single fan is good engineering, making them fanless is an art. TANGENT offers fanless computers which are reliable and robust to meet your demanding requirements of ruggedness and performance.
What are major problems with the fans that require us to build fanless computers?
Noise: Fans produce noise during normal operation. As the installed system becomes older, the fan becomes nosier. In some applications, noise above a certain level is unacceptable.
Maintenance: Fans suck in dirt and clog the filters. This requires frequent cleaning of filters. In certain embedded systems, access to the computer for maintenance is not feasible. Problem of choking of filters exacerbates if the computer in installed in a dusty environment.
Failure: A fan is a moving part, with an electric motor. This can fail, resulting in overheating of the computer and eventual system shutdown or even total system failure.
Fanless computer eliminates these problems completely. The computer becomes quieter, becomes more robust and requires less maintenance.
Why are fans required in computers anyway? Well, computers need a lot of processing power that requires high-performance components, especially the CPU. These components generate a lot of heat. If this heat is not removed rapidly and continuously, the system will over-heat and will eventually fail. Fans provide an easy and cheap way to remove this generated heat by blowing air across the hot components and out of the computer casing, keeping the temperature inside the computer within the acceptable limits.
However, the limitations of fans in a dusty environment are significant and in certain application, noise is a major issue. To minimize noise generated by fans and reduce heat generation, various techniques such as; variable and low-speed fans with efficient CPU heat sinks, logic to slow down or shutdown the CPU when not in active use are incorporated. However, the best way to remove the fan-related problems is to remove the fan altogether, replacing it with an alternate heat removal system.
A computer with a good performance is simple to build, but a fanless computer requires a good design. Heat load is carefully calculated and the heat removal system is designed to match the heat load in worst case operating conditions. A system of heatpipes is used to remove the unwanted heat out of the system.
Heatpipes are made of copper or copper alloy, capable of transferring a large amount of heat. Inside the heatpipe there is liquid under low pressure that boils into vapor when it absorbs heat. This vapor then condenses back into liquid at the cooler surfaces of the heatpipe and releases the heat. Heat is taken from the CPU by one end of the heatpipe, and transferred to the other end of the heatpipe in contact with a larger heat sink, which is the Aluminum casing of the computer system. This casing comes in contact with the ambient air and thus dissipates the heat in the air, thereby cooling the system.
TANGENT's Fanless Rugged Mini PC line is designed with industrial and military grade components and specifications for reliable operation under a demanding environment which require reliable and noiseless operation.
Model Rugged S is specially designed for use in industrial and medical applications. It can be used in mobile medical carts, anesthesia module and display systems. It provides optional ISO ports to meet the needs of Critical Care environments.
Model Rugged S meets rugged design specifications and medical UL60601-1 certification. It comes with built-in watchdog timer for automatic re-start on a non-fatal system fault, optional 4k V Isolation card for patient protection, and an optional TPM for added security.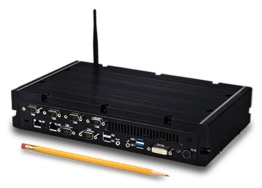 MINI RUGGED S
TANGENTS's newest model Rugged G is also a fanless computer, designed to handle 12, 19, or 24V DC system power input, a wide range of operating temperatures, and can be installed in a variety of industrial environments.
 Rugged G
Rugged G's fanless design is ideal for dusty factory floors and offers a lot of installations options for wall or DIN rail mounting. 4 COM ports, 6 USB ports, and a Digital I/O port, provide maximum connectivity from this rugged industrial Mini PC. Rugged G can operate in extreme operating temperature range of 14° to 131°F (-10° to – 55°C).