Cleanliness remains a top priority for hospitals everywhere. Since the introduction of handwashing into the medical field, efforts to curb disease spread in the hospital have been largely successful. Still, medical institutions must remain vigilant in their hygienic practices to ensure that the risks to patients are minimized. Hospitals need quality medical computers that help to create a safe and clean environment for both staff and patients.
Why Medical Computer Hygiene Matters
Your doctors and nurses are constantly moving from one room to the next in your hospital. Throughout their busy day, they visit numerous different patients and co-workers. While they may not directly come into contact with each other, they no doubt all use the same medical computer in any given room. These computers become a breeding ground for harmful pathogens as staff use them throughout the workday.
But not all medical computers are afflicted by this issue. Many of them feature an antimicrobial coating to help protect against microbes.
Antimicrobial Coatings Add A Layer Of Protection
An antimicrobial coating mitigates the growth of pathogens on whatever surface it is spread on. These coatings work along the same lines as naturally occurring antimicrobial materials, like copper. Antimicrobial materials interrupt a bacteria cell's respiratory and metabolic functions. Over a brief period of time, this leads to the cell being unable to create energy and proliferate.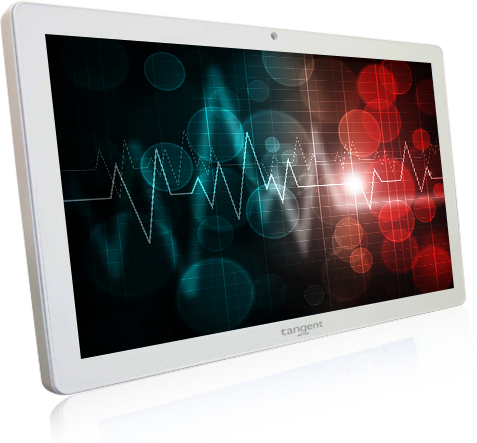 Medical computers like the KW15 from Tangent feature an antimicrobial coating across its surfaces. The KW15's enclosure mitigates the growth of pathogens, which helps create a safer hospital environment overall. The cast aluminum enclosure is also built to last, and features a fanless cooling system. The KW15 also features other sanitary features, such as a washable touchscreen to help make it even more hygienic.
Washable Medical Computers
Doctors and nurses routinely wash their hands throughout a shift to minimize the risk of spreading pathogens around the hospital. Likewise, medical computers should be routinely cleaned to minimize disease transmission. Computers from Tangent feature antimicrobial enclosures to help mitigate this transmission. But they also sport IP rated touchscreens as an added layer of protection.
The Medix 22 from Tangent features an IP65 rated touchscreen that can be easily cleaned. This touchscreen can withstand standard cleaning agents without damage to the screen. Doctors and nurses can give their computers a quick cleanup before and after use. Combined with its antimicrobial layer, the Medix 22's IP65 rated touchscreen can give medical staff peace of mind about the sanitation efforts being employed.