In the hospital setting, emergencies can happen at any time. Not only should your medical personnel be ready to do their job at a moment's notice, but so too should your equipment. Making sure that your medical PCs are able to operate on a 24/7 basis may be crucial to providing care to patients in critical condition.
Medical PCs come in a variety of shapes and sizes, but all have key features that set them apart from commercial models. Firstly, medical PCs must be UL/IEC60601-1 certified for their electromagnetic leakage, which must be within safe levels for use around patients and medical equipment. Second, they should exhibit some level of dust and water resistance, as denoted by their IP rating. IP ratings vary, but medical PCs should at least be rated IP64, which denotes them as fully dust proof and resistant to water exposure and regular cleanings. Lastly, medical PCs should have an antimicrobial agent on their enclosure, which inhibits the growth of bacteria on the medical PC's surface.
You may have noticed that the three key features of medical PCs do not include any metric for reliability. Reliability is not a standard in medical PC manufacturing, but is critical to ensuring that your hospital is able to provide safe and dependable care. Tangent's lineup of medical PCs and medical all-in-one computers features PCs that are up to the challenge of a 24/7 work environment.
Hot Swap Batteries
We've all been there, phone at 5% and miles away from an outlet to charge it. In the medical setting, having your medical PC run out of battery while in use is simply not an option. Medical PCs on medical carts have to be plugged in when not in use to ensure that they have a full battery when they are needed, but this charging process requires the whole medical cart be put out of commision during charging. Medical PCs like the Medix E22B feature hot-swap batteries that can be charged on a separate docking station and swapped out with minimal disruption of service. Hot-swap batteries make medical carts infinitely more productive, allowing them to be in use 24/7.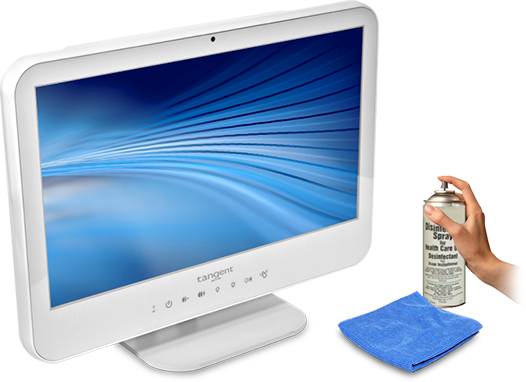 Uninterrupted Power Supply
While it is not fun to think about worst-case scenarios, it is critical to create plans for emergency situations. A power outage can greatly affect your hospital's ability to perform live support. While all hospitals today feature generators or battery banks as a contingency, not putting unnecessary stress on these emergency systems is critical to ensuring their longevity. Medical PCs like the Medix C22 can be equipped with an emergency battery supply that allows the computer to function during power outages. Having your medical PCs not strain your emergency power system allows for greater assurance that power is being used where it is most critically required. Medical all-in-one computers with emergency power supplies allow medical personnel to work without fear of draining your power system.
Medical PCs are built to keep your hospital a safe and healthy environment to work in, but not every medical PC is built to be a reliable tool for your hospital. Choosing medical PCs with reliability features built in is a key way to ensure that your hospital can meet any emergency at any time.