Working Smart while Looking Smart
The popularity of tablet PCs and smartphones in the last decade or so have ushered in a thrilling era of sleek styling, simplicity, cleanliness, and cordless computing. Wireless internet and wireless charging has especially transformed consumer expectation of computers' appearance, and it was certainly a welcomed change. I'm not sure if most people remember what a mess of cords and bulky components that formerly took up an entire work desk. The rat's nest of cabling and dust bunnies underneath the desk was an even worse nightmare, and don't even get me started on the storage room for all the cables and equipment.
Tablets and smartphones are great for small tasks and internet browsing, but they are woefully underpowered and incapable for business use as work PCs. All-in-one computers were introduced as far back as the 70s in attempt to address the messy desk problems, but those first all-in-one PCs were quite large and cost a good amount more than a standard computer setup so they didn't quite catch on for some time. That is until Apple released its landmark iMac in 1998 and really put all-in-ones (and themselves) on the map. But as cute, innovative and in-demand as they were, the iMacs were still not of a caliber that most businesses could utilize as reliable and powerful computers.
Despite the shortcomings of earlier all-in-one computers, the idea of a space-saving and uncluttered business grade computer system persisted. The introduction of LCD and touchscreen monitors along with solid state drives, the decline of compact disc drives, and many other advances all set the stage for the brilliant re-emergence of the all-in-one PC. Tangent has taken even lengthier steps to making their all-in-one business PCs offer the top of the line in terms of form and functionality, especially in clinical or high traffic use.
The Tangent L24 24" widescreen all-in-one business PC is a hallmark of that intersection between clean design and technological prowess. The technical specifications on this, Tangent's newest all-in-one business PC, has an impressive list of features: Intel 6th Gen Core i Series, a 2.5″ HDD/SSD hard drive for storage up to 2TB, up to 32GB of memory, wireless and bluetooth capability, a numerous amount of input/output ports including four USB 3.0 ports, and an IP65 rated, antimicrobial enclosure. Truly, the only cable that you could potentially see on the entire system is the AC power cable. The versatile stand allows one to use the PC in  either a portrait or landscape view, as well as tilting, raising and lowering the screen. This PC offers an attractive, presentable and fully featured business computer at a meager 13.1 pounds with the touchscreen option.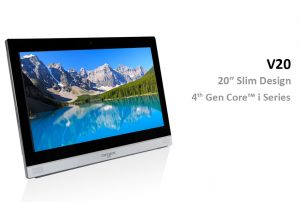 If you're looking for something even more minimal looking than that, the Tangent V20 20" slim all-in-one business PC provides a robust computing experience at a shocking 6.8 lbs with a super slim profile and a stand built right into the back of the system which gives the appearance of a monitor standing on its own. Performance is not sacrificed on any of the Tangent line of all-in-one PCs. A tidy, hygienic, professional-looking system is highly sought after in today's markets and the Tangent all-in-ones have much to offer in that space.