Providing safe and accurate prescriptions to patients can be a complex, and potentially risky endeavor. That's why medication witnessing is crucial in the hospital setting. With medication witnessing, hospitals can be certain that medication is being used properly throughout the hospital. But oftentimes the process of medication witnessing is a laborious, clunky task. With Tangent medical computers, medication witnessing can be done quickly and safely, improving your hospital's workflow.
Medication Witnessing With Medical Computers
Medication witnessing can be a pain for doctors and nurses to accomplish. Depending on where they are in the hospital, the process can involve multiple steps and require the witnessing RN to memorize a confusing ID number, user name, and password. Memorizing and recalling these inputs can take a considerable amount of time that the witnessing physician can use in other areas of the hospital.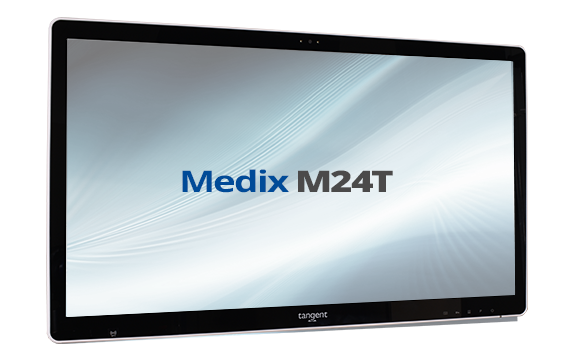 With medical computers like the M24T from Tangent, this process is completely streamlined. The inputs required to witness medication changes can be safely and conveniently stored on your RN's badge. This allows your doctors and nurses to have longer, safer passwords without the hassle of having to remember them; bad password habits become a thing of the past.
Tangent medical grade computers are equipped with SSO RFID, combined with Cerner Millennium and integrated with Imprivata Confirm ID. With these implementations, Tangent medical grade computers are perfect for easy and secure medication witnessing. Tangent computers and tablets have been tested and approved by Cerner, and can be trusted to help aid your medication witnessing efforts.
Medical Computers Make Medication Witnessing Safer
In addition to making medication witnessing easier, Tangent medical computers make the process safer. Medical computers from Tangent are UL60601-Certified for use around medical electrical equipment. In addition, medical computers from Tangent are IP rated for water resistance. This means that they can easily be cleaned with traditional cleaning products without damage.
Medical grade computers from Tangent are also equipped with antimicrobial enclosures. These enclosures can help mitigate the growth of harmful pathogens in the hospital. What's more, with the combination of no-touch RFID badges, Tangent medical computers can help aid in cross-contamination control efforts.
Tangent: Medication Witnessing Made Easy
Now more than ever, Tangent remains committed to helping hospitals treat patients in the most effective and efficient manner while keeping their employees safe. If Tangent's cutting edge Med Witness authentication process sounds right for your hospital's workflow, you can Contact Tangent today for more information and a quote.