The top priority of any hospital is ensuring the health and safety of patients. The complications of the pandemic have made this mission that much more difficult. Doctors and nurses don personal protective gear each and every time they see a quarantined patient. While effective, this approach to caring for quarantine patients leaves room for human error. Reducing the amount of time medical staff spend with sick patients can reduce the risk associated. There are telehealth options that can help keep your quarantined patients in constant contact with their doctors, without putting either party in harm's way.
Telehealth Made Easy For Quarantined patients
Right now, routine check ups on quarantined patients most likely require your doctors to be there in person. They talk with the patient about their health and help put them at ease. While there are some times when doctors will need to be in the room with these patients, many times there is no need.
Giving quarantined patients access to a medical tablet can reduce these unnecessary encounters. Your IT department simply sets up these medical tablets with restrictions on a patient's access to them. Devices from Tangent like the T13 come equipped with a forward facing camera. Your patients can then use the tablet to perform routine telehealth appointments with their doctors and nurses.
Depending on your hospital's device policies, these medical tablets can also serve as entertainment systems for your patients. Giving patients limited internet access, you can keep them entertained during their quarantine.
Safe With Medical Tablets
Tangent medical tablets like the T13 feature an antimicrobial enclosure. This enclosure mitigates the growth of harmful bacteria across the device's surfaces. In conjunction with regular disinfectants, this coating can help keep your patients and doctors safe while using their medical tablets.
Doctors Benefit Too
Doctors can make use of larger medical grade computers like the M24T to access telehealth appointments with quarantined patients. The M24T features a wide, 24 inch touchscreen monitor. Doctors can view patient records on one side of their screen while chatting with patients on the other.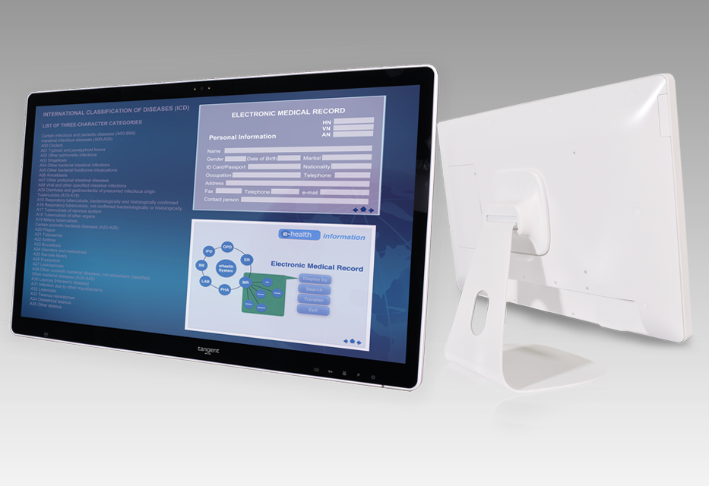 The M24T also comes with an optional front webcam that can take clear video of your doctors for these appointments. This medical computer is also a robust workstation that can handle all of your doctor's medical programs with ease.
Better Workflows For Quarantined Patients
Quarantined patients have become a mainstay in hospitals since the beginning of this pandemic. Tangent medical computers can help your doctors and nurses stay in contact with your patients while remaining safe. For more information, Contact Tangent Sales today.