Water, dust, bacteria: these three contaminants and many more can spell disaster if they come into contact with your work PCs. Anyone who's worked in a factory, food or beverage processing plant, or pharmaceutical plant knows that these contaminants can easily find their way into any nook or cranny available. PCs in these settings are no exception, and over time can fail, or require intensive maintenance to repair, due to contaminant ingress. Some companies attempt to retrofit their existing commercial grade PCs in order to make them seemingly waterproof, but these well-intentioned jury rigs are not certified or guaranteed to work. 
Only properly Ingress Protection(IP) rated waterproof computers are certified to be water resistant and waterproof. These wide ranging standards help computer companies design PCs from the ground up to be contaminant protected, ensuring a PC in any work environment can operate as long and effectively as a commercial PC sitting in an office building. The International Electrotechnical Commission (IEC) has created the IP guidelines in order to help both computer companies and their customers find the right waterproof computer for their job site. 
These guidelines have varying levels of ingress protection that are applied to PCs based on how well they operate while withstanding the elements. Ranging from IP00 up to IP69k, the IP scale covers everything—from PCs that are completely susceptible to water damage to PCs that can withstand high pressure water jets. The two digit number represents the PCs resistance to solids and liquids: the first number indicates solid resistance on a scale of 1 to 6; the second number signifies the PC's water resistance, on a scale from 1 to 9k (the additional k rating is unique to the 9 liquid rating).
Every work environment is unique and presents its own elemental challenges to be considered when deciding which IP rating you need for your job site. At Tangent, we design nearly all of our PCs and monitors to be at least IP65 certified water resistant and dust proof. At this rating, our PCs are completely dust ingress protected, and impervious to stray water jets. Two of the most common ratings for IP rated PCs are IP65 and IP69K: each of these ratings carries a list of advantages that make them well suited for work environments.
IP65 Rating For PCs and Monitors
When a PC or monitor meets IP65 standards, the device is completely insulated from dust and particle contamination. This means that the enclosure housing the PC or monitor has no openings save for I/O ports. This negates the possibility of dust coming into contact with vital computer components or building up and constituting a health hazard. Commercial PCs feature exhaust ports for their fan-based cooling systems to circulate air through. IP65 rated PCs feature fanless cooling systems, which in addition to being quieter do not require the openings that their fan-based counterparts do. With no fan or openings, IP65 rated PCs and monitors are able to work in dusty or dirty environments without worry.

At the IP65 rating, PCs like those in the Vita KW Line from Tangent are able to withstand jets of water from any direction on their front panel. This makes IP65 rated PCs close to being waterproof computers, and capable of withstanding environments where liquid presence is a common risk. In food and beverage processing plants, IP65 rated PCs and monitors are perfect for workstations where workers may be moving from a wet assembly line to the PC throughout the day. These nearly waterproof computers also make for easy cleaning, and can be cleaned with traditional cleaning supplies, as though they were just another surface on the factory floor.
While commercial grade computers can be jury rigged into a seemingly waterproof enclosure, they do not carry the IP65 rating and are prone to failure. In addition, their fan-based cooling systems would be choked off from outside air, and computer components may suffer damage from overheating in the stale environment. The only way to ensure that your work PCs are safely effectively dust and waterproof/resistant is by acquiring IP rated PCs from the start. 
IP69k Rating For PCs and Monitors
The IP69K rating is the highest IP level available for waterproof computers to be rated. At this level, PCs are completely dust and particle proof and protected against high temperature and pressure water jets. IP69k rated computers are designed for the dirtiest work environments, and help keep your job site moving. Like IP65 rated PCs, IP69K PCs sport sealed casings and fanless cooling systems. This allows them to be operated in dust riddled environments without any damage to their interior components. However, unlike IP65 rated PCs, IP69K PCs are waterproof computers able to withstand high pressure water bursts with ease.
IP69K rated waterproof computers are also able to withstand high temperature water jets as well, making them perfect for food and beverage processing facilities where hot liquids are common. Computers like the Tangent S Series are able to withstand hot water blasts and the resultant shock and vibrations that accompany them. In a 24 hour work environment, these computers are to work continuously without needing excessive maintenance due to dust build up, and can easily be cleaned with traditional cleaning supplies or those used on machines. The S Series features a stainless steel enclosure that is corrosion and damage resistant. This is a critical part of the S Series meeting IP69K criteria to being a waterproof computer. There is no bulky enclosure surrounding the S Series that makes it a waterproof computer, instead the PC is one solid device designed around being waterproof.
Waterproof Computers and Monitors In The Workplace
Every work environment is unique, and requires specialized equipment to produce the most efficient workplace possible. IP rated waterproof computers can play a crucial role in helping make a variety of workplaces more productive.
Food And BeverageProcessing Plants
The food and beverage processing industry is seeing itself becoming increasingly computerized to meet demand. These computers help parts of the plant communicate with one another and ensures the plant on a whole is running smoothly. But these work environments are highly susceptible to both liquid and particle buildup on surfaces— computers and monitors being no exception. That's why IP rated waterproof computers are so crucial to food and beverage processing plants, providing non-stop computing power to meet the needs of plants. Not only do IP rated waterproof computers run better in food and beverage processing facilities than their commercial counterparts, but they also help plants meet the rigorous safety guidelines set out by the Food and Drug Administration(FDA).   
Tangent's full lineup of Panel PCs features full-touchscreen monitors that are IP rated waterproof, allowing them to be used with dirty hands without damage. IP rated Panel PCs differ from traditional desktop PCs in that they do not require a mouse, keyboard, or external monitor to operate. They are all-in-one devices capable of performing at the level of desktop computers. The all-in-one design of PCs like the Tangent F15 negates the need for users to have a full desk with a mouse and keyboard. This saves crucial square footage, and allows workers to operate multiple workstations at once. 
These waterproof computers can be mounted virtually anywhere in a plant, as their high water and temperature resistance allows them a nearly universal usage. Their all-in-one design not only allows for mouse and keyboard-less use, but saves IT departments the hassle of trying to find certified waterproof peripherals. 
Hospitals and Medical Facilities
There's no question about it: Waterproof computers are healthier and safer for use in the medical setting than their water susceptible counterparts. So much so, that nearly every medical PC on the market meets some IP rating. Medical computers are required to meet a litany of criteria to be called a medical computer, all centered around ensuring both medical staff and patient safety.
Every medical computer sold in the United States is required to meet UL-60601 guidelines, which ensures that these computers are safe for use around both patients and medical equipment. Medical computers also feature antimicrobial enclosures, which inhibit the growth of harmful bacteria on the PC's surfaces. Antimicrobial additives are baked directly into the enclosures of these PCs, making them resistant to being wiped away during cleaning. The antimicrobial component of medical computers plays a critical role in reducing the likelihood of nosocomial infections, as multiple medical staff can be expected to use the same computer throughout the day.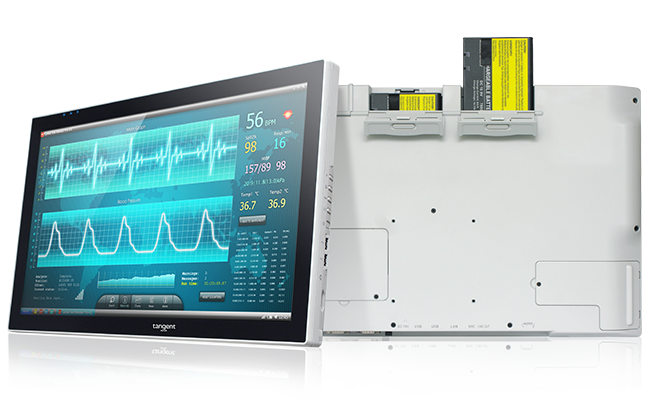 By making our antimicrobial enclosures IP rated waterproof, our medical computers are able to be sanitized and cleaned regularly without fear of stripping the antimicrobial additive. Medical computers like the Medix T24B from Tangent are IP65 rated waterproof, and can withstand regular cleaning with disinfectants. Our medical computers, like our panel PCs, are all-in-one computers that do not require mouses and keyboards to operate. This means that doctors and nurses can interact exclusively with the antimicrobial touchscreen, and not have to worry about the germs they are spreading via keyboard and mouse. If a medical room needs more than one display, Tangent's Medical Monitor is IP65 rated waterproof and features our antimicrobial additive. 
There are no days off for soldiers on the battlefield, and their technology should be able to keep up with their rigorous schedule. IP rated waterproof computers are a crucial component of any successful operation, built specifically to endure the harshest environments the earth has to offer. Tangent's lineup of rugged computers features PCs that are custom built for situations in which dust and water ingress can cripple an operation. 
The R14 Tablet from Tangent meets IP65 specifications for water resistance, and is the perfect computer to accompany servicemen on missions. The R14 meets military standards for both shock and vibration, and its IP65 rating means that it can survive a drop into mud or wet dirt with ease. When on a mission, the last thing you want military personnel to be worrying about is whether their computers are working, and the R14 ensures that they won't have to. In drier environments, the R14 is rated at the highest level for dust ingress, and can survive the dustiest and sandiest environments without damage to interior components.
In the pharmaceutical setting, ensuring that the environment is as safe and sterile as possible is critical to success. Pharmaceutical companies often utilize clean rooms to limit laboratories from being exposed to outside contaminants and bacteria. These clean rooms can only have a certain number of particles in the air, and must be able to be sprayed down for cleaning.
Traditional computers could not handle this environment, and would quickly jeopardize efforts by personnel to create a sterile work environment. Traditional computers utilizing fan-based cooling systems would kick up and collect dust, quickly defeating the purpose of the clean room. Only IP rated computers with a first digit of 6 should be used in these settings, as they do not allow dust to enter their enclosures at all. At Tangent, we have designed the Mini O rugged PC with an IP rating at the maximum of IP69K. This ensures that the Mini O is as safe as possible for clean room usage, and will not negatively impact the cleanliness of the room. The Mini O is a fully waterproof computer, capable of being sprayed down in the clean room without issue. 
It may seem that waterproof computers are highly specialized for specific niche sectors, but this is simply not the case. Every sector can benefit from having waterproof computers in house, even factories not specializing in liquid or medicine production. IP ratings measure both the water resistance and dust resistance of computers; even facilities that do not use liquid in the production process have dust. 
Tangent's lineup of all-in-one Panel PCs are IP rated waterproof, and perfect for the factory floor. Where there is just not enough room for a full workstation, a Panel PC can operate as a full fledged computer. Most of our Panel PCs feature an IP6x rating, which means that they are fully dust proof. This allows Panel PCs from Tangent to operate on a 24 hour basis without needing excessive maintenance. Full dust protection can make the difference in any industrial setting, quickly turning areas of a factory that lacked automation into fully functioning computerized stations.
Waterproof Computers: Built to Last
At Tangent, we take IP ratings extremely seriously and have designed our lineup of waterproof computers to reflect that. Each model showcased today features some IP rating which makes it resistant to both dust and water, and therefore an ideal choice for work environments that are susceptible to these contaminants. Choosing the right computer for a specific task is crucial to ensuring an efficient workplace, and choosing a waterproof one is one way to produce such a workplace.