Mini PCs for Industrial Use
When deciding whether to buy a Mini PC, you may feel some hesitancy comparing it to a full size PC. Although the size may be attractive, there may be some questions in your mind about what their capabilities are. You may be surprised to learn about their versatility and wide range of power and capacities Tangent's Mini PCs have.
With fifteen Mini Pcs (and more to come) to choose from, our Mini PCs can be utilized in a wide variety of industries and applications. Our Rugged E3 Mini PC is able to withstand temperatures of -13 degrees up to 185 degrees. This Mini PC is fanless and provides noise-free operation. Rated for shock & vibration,, designed with removable drive bays and RAID support, the Rugged E3 is an ideal Mini PC for video surveillance and video capture POE. The TPM and watchdog timer enhance functionality.
Rugged E3
Our Rugged S is slightly larger than a standard pencil. It meets medical grade UL60601-1 requirements and is ideal for healthcare or industrial applications. With optional multiple ISO ports, the Rugged S can be configured to meet the needs of critical care environments. The Rugged S is fanless and provides noise-free operation. It also comes with an Available Full PCIe Slot which can be configured with optional 4KV isolated card for high voltage insulation, making this model ideal for healthcare environments.
Rugged S
At 1.53 pounds and dimensions of 4.57″ x 4.33″ x 1.93″, our Rugged Q is lightweight and has an ultra mini form factor. This desirable computer is easy to mount and install in a variety of environments. With a wide input power of 9 to 24V DC and VESA 75/100 Mounting, wall mounting brackets and DIN rail mounting this Mini PC offers versatile connectivity and mounting options. Standard with two LANs, one RS232, four USB ports, and two HDMI connectivity is not an issue for this Mini PC.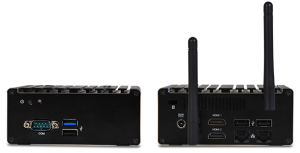 Rugged Q
Our complete line of Rugged Mini PC's can be used for in-vehicle, defense, factories, mills and healthcare applications. They can also be mounted on mobile carts, used for surveillance and for digital signage. Tangent's Mini PCs are capable of performing similar to their larger counterparts, at times even surpassing larger PCs. Our available Mini PCs our designed to meet your industry needs. The question is not if they have have the power to perform. The question is which Mini PC best suits your specific needs.