These days, it seems rare for groups to be able to find common ground, let alone fully agree on an issue. However, a recent study has shown that over 90% of medical staff comprised of individuals at various levels surveyed felt their institution should support tablet integration in their hospitals and clinics. The survey asked resident trainees, fellowship level trainees, and attending level physicians across various medical fields multiple questions regarding the use of medical tablets. One thing is certain: Medical staff want to use medical tablets, and they are ready.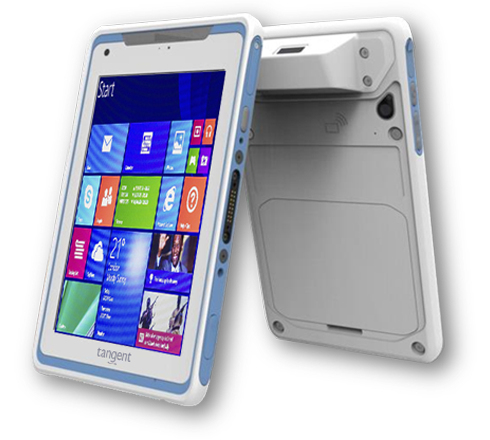 Medical tablets, simply put, are computer tablets designed for use in the medical setting. They are touchscreen computers that run the ever familiar and easy to use Windows operating system. Medical tablets like the M8 Medical tablet from Tangent have a small form factor, and are as easy for medical staff to use as their own personal cell phones. 
The biggest difference between medical tablets and commercial tablets is that medical tablets are designed to be 60601-1 certified for medical use. This allows them to be used in close proximity to both patients and medical equipment without worry. What's more, medical tablets have an antimicrobial coating that mitigates the growth of bacteria on the tablet's surfaces. This is extremely important for tablets used in the medical setting, as they are constantly changing hands throughout the day.
The study showed that even 90% of medical staff who did not own tablets at home felt as though their medical institution should have them. Medical tablets like the T13 from Tangent simply make the hospital work life easier and more efficient. With hot-swap batteries, the T13 does not need to sit out of commision while it charges, instead it can simply have its battery replaced and be ready to help patients in seconds.
With such a positive response to medical tablets, it's a wonder why more medical institutions do not adopt them in their daily use. Medical tablets are a homerun with medical staff, and are just one way to increase morale around the hospital or clinic.