For their entire existence, hospitals have only had one major goal: to provide quality healthcare to their local community. To do this, doctors have always used the most advanced technology available to them. In the sixties, that meant creating and implementing the first artificial hearts into patients. Innovations like these have led to people living longer, healthier lives. Now, the latest medical innovation is the very one you are using to read this: medical grade computers.
Medical grade computers have changed the way hospitals do virtually everything. Gone are the days where scores of staff were tasked with organizing and ferrying paper health records. No more are the days where pagers were the only reliable way to get ahold of patients. Gone are the days of inefficiency. Now with every doctor having their own medical computer, hospitals are able to see more patients and treat them with higher accuracy.
Of course, not every medical computer is created equal. Your hospital needs the highest acumen of medical grade computers possible. Here are five reasons why your hospital needs medical computers, and which features to be on the lookout for.
How A Medical Grade Computer Can Help Prevent Nosocomial Infections
Even before the pandemic, nosocomial infections were a scourge on hospitals. Nosocomial infections refer to diseases caught while in the hospital. These diseases can greatly complicate your hospital's workflow. Say a patient in recovery catches an infection. Suddenly, they may need emergency treatment and their bed for days or potentially weeks longer than anticipated. The costs to both the patient and the hospital can be astronomical.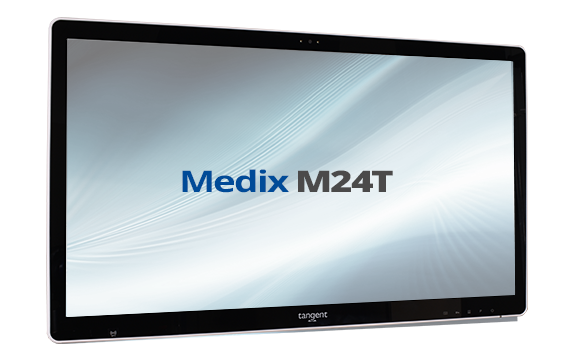 You can help prevent these infections with the right medical grade computers. Medical grade computers like the M24T from Tangent come equipped with a trusted antimicrobial coating. This coating greatly mitigates the growth of bacteria across the computer's surfaces.
Think about it: your medical grade computers scattered across the many patient rooms in your hospital receive a lot of traffic. Multiple LVNs, RNs, and doctors will use the same medical computer in one day. There were an estimated 687,000 nosocomial infections in U.S. acute care hospitals in 2015 alone, with an estimated 72,000 resulting deaths according to the CDC. Imagine if the risk of them spreading germs across these computers could be reduced.
A Fanless Design For Enhanced Cleanliness
If you haven't cracked open a computer before, you may not be aware of how much dust can build up in them. Computers are magnets for dust, thanks in part to their fan-based cooling system. Computer CPUs create a lot of heat (it takes quite a bit of power to make everything behind the screen happen), and yet CPUs are highly sensitive to heat. That's why many computers feature fans attached to a metal heat sink on top of their CPU. The heat sink allows heat to flow through it, and then the fan circulates air through the sink to cool everything down.
For a standard work setting, this is fine. There's just one problem: the design of heat sinks also means that any dust in the air the fan pushed through them is liable to get trapped. IT departments can regularly clean these heat sinks out, but for some areas any amount of dust can be a problem.
Take the surgery room for instance. Imagine if you had a fan pointed at a bucket of dust blowing constantly while your surgeons performed a routine operation. Suffice to say, that wouldn't be good. Some medical computers essentially do just that by circulating dusty air around rooms.
Every one of Tangent's medical grade computers is designed with a robust fanless cooling system. This system keeps the medical computer cool, without spreading dust around. The closed body design of Tangent's lineup lends itself to creating a more sanitary environment.
What Does It Mean For Medical Grade Computers To Be IP Rated?
You have heard of IP, or Ingress Protection, ratings before and wondered what they referred to. In short, an IP rating certifies that a device is capable of repelling some amount of water and or dust. Different ratings provide different levels of protection. Most consumer and commercial grade computers do have have any such rating. Users therefore have to be especially careful when cleaning them, as one slipup could lead to the destruction of the entire system.
But why are IP ratings important? In the medical setting, they are crucial. We have already outlined the potential risks that come with a dusty environment. But IP ratings go beyond this, allowing for some contact with liquids. This is because medical grade computers with an IP rating have a sealed enclosure With an IP rating of 65, most standard detergents can be used on a medical computer regularly without harm.
UL60601 Standards: Keeping Your Hospital Safe
HIPAA regulations are designed to keep a patient's personal life private. They ensure that patients can feel comfortable divulging sensitive information to their doctor without fear of repercussions. But there is another, lesser known set of regulations that also work to keep your patients safe with medical grade computers.
IEC 60601 is a set of standards designed to ensure that medical electrical equipment like medical grade computers is up to snuff. In the United States, these standards have been translated into UL60601 standards. These standards, among other things, ensure that every medical computer sold in the United States does not interfere with other sensitive equipment.
Medical equipment like pace makers could potentially be affected by electric radiation coming off a commercial computer. The right medical grade computers ensure that your patients and medical equipment stay safe from potential electrical hazards.
Advanced Software Ready
Software has come a long way in the last 20 years, especially when on medical grade computers. In the early 2000s, a gigabyte was still considered to be a massive amount of storage. A gigabyte flash drive would run a pretty penny. Now however, nearly every piece of software is multiple gigabytes, and takes even more gigabytes of RAM to run.
Take Electronic Health Records, or EHR, software for instance. This software may seem not as resource intensive as other pieces of medical software. But over time,many have evolved from simple spreadsheets to entire care suites. Future-proofing for newer medical software has never been so important.
Tangent medical grade computers are designed with the future in mind. The E24B from Tangent features an NVMe storage slot. This slot, when coupled with an NVMe SSD, can perform up to 30 times faster than traditional HDD systems. In non-tech jargon, this amounts to far quicker computer start up times, software start up times, and loading speeds. With this SSD system, the E24B can handle today's technical demands, and tomorrow's.
Hospitals Need Medical Grade Computers, But Only The Best
Your hospital has no doubt been through a rough year. The pandemic has taken a toll on all of us, but none more so than our medical professionals. Doctors, nurses, and medical assistants have worked around the clock to keep everyone safe. It is time to repay them by giving them equipment that can help keep them safe, and productive. Tangent medical grade computers are built from the ground up to always promote a sanitary hospital, keep doctors informed, and be reliable. As we round the corner on this pandemic, consider equipping your team with the best medical computers possible. For more information, contact Tangent Sales today.
need portable medical computers for your hospital? We've got you covered.