The pandemic has affected workplaces around the country in many different ways. The medical industry in particular has seen numerous shifts. Hospitals have learned to adapt to the challenges that the pandemic has brought on, overcoming many obstacles in the process. In order to provide the quality care that their patients rely on during these times, hospitals have turned to the medical computer.
Hospitals have incorporated computers in their workflow nearly since their creation, but not every computer is built for hospital use. The pandemic has shown how vital medical computers are to medical facilities. The differences between a commercial and medical computer may seem subtle, but in practice medical computers are faster, cleaner, and more useful.
What Is A Medical Computer?
As the name suggests, a medical computer is a computer that is designed for use in the medical setting. While there is no formal definition of what a medical computer is, there are some industry standards to look out for when exploring your options. Tangent meets and exceeds these industry standards, ensuring their customers receive reliable and safe equipment.
Medical Computer Standards
While there are no formal standards for computers in the hospital, every medical computer needs to comply with the Medical Design Standards for Power Supplies. Generally referred to as either an IEC 60601 or UL 60601certification, these standards ensure that all electronic equipment in hospitals is safe for use around other medical equipment and patient medical devices.
These standards ensure that no electrical leakage or other potential hazards are present in every medical device. For devices that can potentially be in-use or on for extended periods of time like a medical computer, these standards are crucial. Every Tangent medical computer is UL 60601 certified for medical use, but that's only the beginning.
Features of A Medical Computer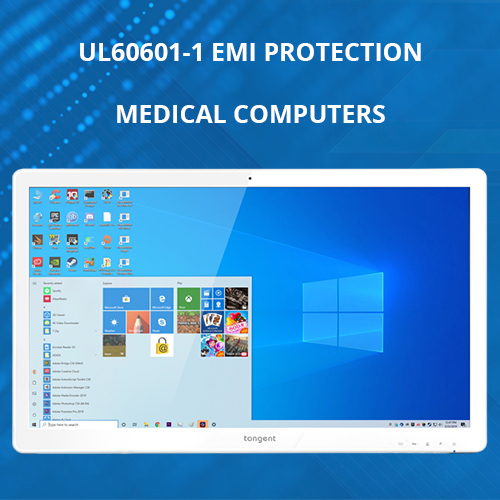 Ensuring that your other medical devices are safe around a medical computer is one thing, but what about your medical staff and patients? A medical computer can potentially become a breeding ground for bacteria if being used by multiple nurses, doctors, and medical assistants throughout the day. The pandemic has taught us better than to allow this.
Antimicrobial coatings are a solution to this. Each medical computer from Tangent with an antimicrobial coating mitigates the growth of harmful pathogens on its surfaces. This means that your computers can go longer in-between cleanings. These computers can also help mitigate the risk of nosocomial infections throughout the hospital.
Even Cleaner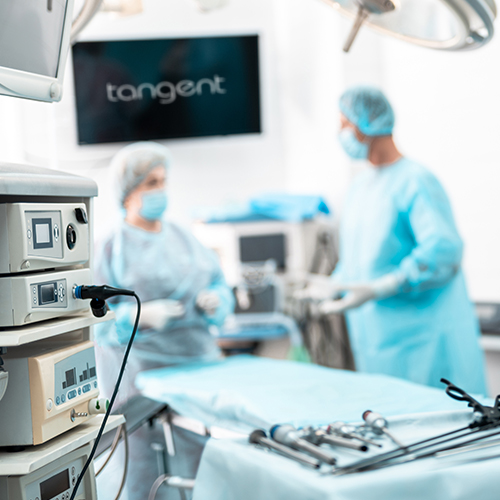 Tangent's antimicrobial coating is only the first line of defense against pathogens in the hospital. Each medical computer from Tangent is IP rated for water resistance. This means that your cleaning staff can make use of traditional cleaning agents on their screens and other surfaces without worry of damage.
This resistance also extends to dust mitigation. Traditional computers feature fan-based cooling systems that quickly fill up with dust, leading to them needing maintenance. Tangent's fanless cooling system creates a fully sealed housing for their computers, minimizing the amount of required maintenance needed.
The medical field is not uniform, and neither are its problems. Each situation in the hospital requires a unique approach to solving it. That's why Tangent has designed numerous computers to meet the needs of various departments in the hospital. Here are just a few of the situations that Tangent computers can be customized for.
Electronic Medical Records
Doctors are spending more and more time filling out paperwork. Electronic medical records have thankfully digitized part of this paperwork. These records have greatly sped up the process of patient intaking, but the process can still be slow.
Pulling up and altering electronic medical records with older or faulty computers can be a frustrating and time-wasting experience for doctors. The Medix M24T medical computer goes above and beyond when displaying electronic medical records. The Medix M24T features a powerfully fast NVMe storage device. Unlike disk-based storage, NVMe makes use of solid-state memory technology to deliver lightning quick speeds up to 35 times faster.
With your hospital's electronic medical record software stored on the M24t's NVMe storage, your doctors can pull up patient records as fast as is currently possible.
Medical Cart Use
Medical carts are some of the most useful applications of computers in the hospital. They allow nurses to shift vital resources around the hospital with ease. But one of the hassles that comes with medical cart use is their downtime.
It can seem as though for every medical cart being used in the hospital, there's another out of service while it charges. While necessary, putting your entire medical cart out of commission while waiting for a battery to charge seems counterintuitive. This process effectively halves the number of available medical carts at any given time.
Tangent has alleviated this issue with their line of computers featuring hot-swap battery technology. The E22B medical computer is one such device. The E22B comes standard with three rechargeable batteries. When equipped on a medical cart, the E22B allows for constant use. Simply plug two batteries into the medical computer, and have the third one charge on the charging dock.
With a simple battery rotation, your medical cart rotation ceases to exist.
General Use
Hospitals do sometimes need general computer platforms. Your hospital may need fully customizable computers. Hospitals are versatile places after all. Tangent has multiple medical computers built for customization and to be deployed throughout the hospital.
Take the T13 medical computer for instance. This sleek medical device features an RFID reader and barcode scanner. With these tools equipped, operations like medication witnessing can become a breeze. Instead of having to remember long and complex passwords, nurses can simply assign their passcode to their badge and scan in their code.
Human milk workflows can benefit from the T13's barcode scanner. Nurses can keep track of expressed milk with convenient barcodes, from the mother to fridge and eventually to the baby.
Upgrade Your Hospital Today
Your hospital has no doubt gone through numerous changes brought on by the pandemic. Your medical staff have learned to adapt to new challenges daily, and have come to depend on their medical equipment. The world will forever be changed even after vaccine distribution brings us back to a semblance of normality. The medical industry's reliance on computers won't subside, but rather increase.
The backbone of your hospital is its medical computer infrastructure; make sure it's built with your hospital in mind. For more information, contact Tangent Sales today.