The needs of each hospital are ever changing. A workflow that worked last year may not the next. This pandemic has shown that hospitals need the ability to adapt at a moment's notice. Hospitals can easily adapt to new circumstances with Tangent all-in-one medical computers.
Tangent medical computers are designed to be customizable for any use that hospitals may require.
Checking Electronic Health Records From Anywhere With All-In-One Medical Computers
Nurses and Doctors often have to be in two places at once. Running around the hospital leaves little time for medical professionals to catch up on corresponde. Vital communications about patient conditions, medical records, and more can potentially go unnoticed during your doctor's rounds.
Medical professionals can stay connected from anywhere in the hospital with all-in-one medical computers like the T13 from Tangent. The T13 is designed for use on the go. It's lightweight and durable frame is drop resistant, while its ergonomic handle allows for easy carrying.
Doctors and nurses can use the T13 all-in-one medical computer to check emails, update patient health records, and more all while on the move.
Medical Cart Computers
All-in-one medical computers are designed to meet many demands, including those of medical carts. Medical carts need dependable medical computers that are capable of running numerous programs at once. Many medical carts employ standard medical computers that require time to charge in between uses.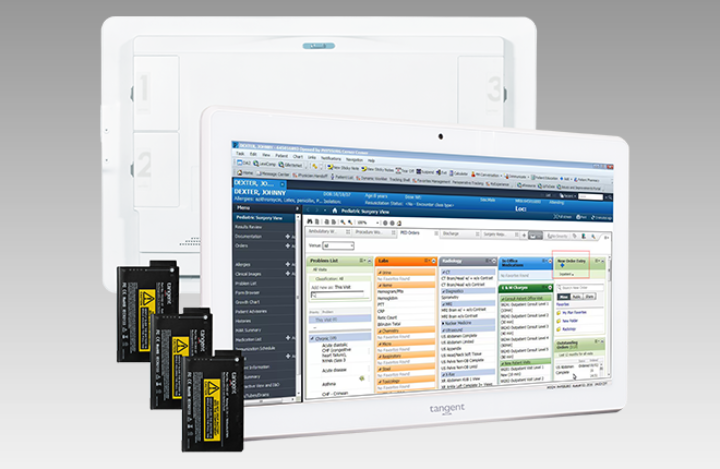 Tangent all-in-one medical computers can be utilized on a 24/7 basis thanks to their hot-swap batteries. These batteries allow medical computers like the E24B from Tangent to run on medical carts without needing to charge. Simply swap out batteries throughout the day and never have to leave a cart charging again.
Improving Workflows
All-in-one medical computers have an advantage against other medical computers when it comes to improving workflows. Medical professionals can do more with their all-in-one because of their versatility. Nurses can use the barcode scanner and RFID reader of medical computers like the T13 to keep track of medication and more throughout the hospital.
Build A Versatile Hospital With Tangent
Hospitals around the country have seen how this pandemic has shifted their needs. Meet these new needs with all-in-one medical computers from Tangent. Contact Tangent Sales today for more information.