Cardiovascular disease (CVD) and cancer are two of the leading causes of death globally, and the combat of these conditions is critical to improving general public health. The best methods of treating such diseases rely on the early detection of these medical issues, which is not always possible. Early detection efforts can be stalled by a lack of available medical personnel, slow medical computers, or a combination of both. However, a study by Yoong SL, Carey ML, Sanson-Fisher RW in BMJ Open sheds light on a promising technology that can aid early detection efforts: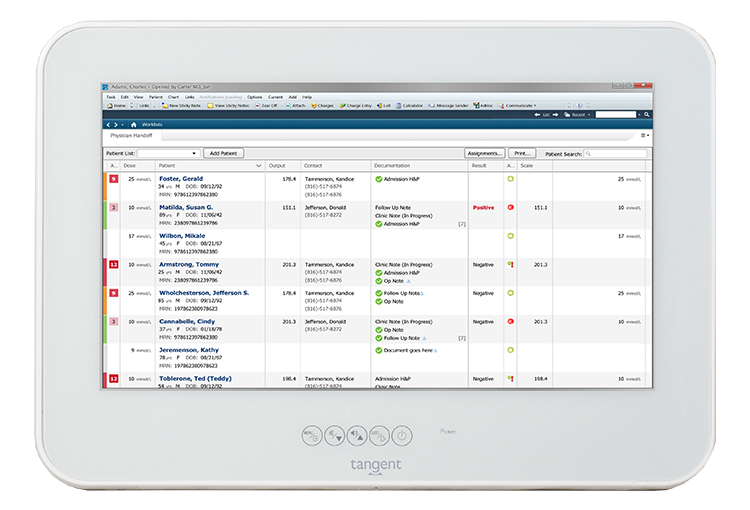 Touchscreen Medical Devices
The study found that a rise in the prominence of touchscreen computers, such as those featuring medical LCD monitors, increased the potential of these technologies to assist in health risk factor assessment as well as the delivery of healthcare advice. Patients and doctors found the use of touchscreen devices, such as medical lLCD monitor enabled touchscreen computers, to be of great use in taking down patient information, and it's easy to see why.
Touchscreen Medical LCD Monitors: Built For The Hospital
The study sought to uncover whether or not both patients and doctors were comfortable with the use of touchscreen medical devices to take down information, as these devices prove to be a fast way of digitizing patient information. The simple reason that medical LCD monitors are valuable tools in aiding early detection efforts is the fact that they are built for the medical space and allow doctors the ergonomics of a commercial tablet and the compliance of medical grade equipment. Medical LCD monitors are IEC 60601-1-2 4th Edition Certified for use in the medical setting, and feature an antimicrobial enclosure that negates the growth of harmful pathogens. When using medical LCD monitors, the only thing doctors have to worry about is their patient's well-being.
Many Sizes Of Medical LCD Monitors To Choose From
The study suggested that the small form factor of touchscreen medical devices allowed for robust and mobile use in early detection efforts, and there is good reason why. Touchscreen medical LCD monitors come in many different sizes to fit every need in the medical setting. Tangent's lineup of medical grade tablets feature similar touchscreen medical LCD monitor displays that allow them to be used in such a mobile manner. Even Tangent's desktop based medical grade computers feature touchscreen medical LCD monitors that allow for these all in one PCs to make full use of their innovative design, allowing doctors to easily access patient information with just a touch. Of course, all of these medical LCD monitor based computers and tablets are IEC 60601-1-2 Certified and feature antimicrobial enclosures.
Early Detection Made Easy
Early detection efforts are crucial to creating a safer, healthier world. Touchscreen computers like those featuring medical LCD monitors are one way to expedite the early detection process, potentially saving lives, and time, in the process.