While there is no one-size-fits-all solution to screening for symptoms of the virus during this pandemic, there are ways of performing screenings for symptomatic individuals. The NBA is strictly monitoring everyone in their bubble's daily temperatures to ensure that any outbreak is immediately discovered. While not every store, hospital, and essential business has access to individual temperature monitoring technology for every worker and patron, there are solutions that can help these places screen for virus symptoms. With a Thermal Imaging Kiosk From Tangent, multiple people can be safely and accurately screened with a single device.
Thermal Imaging Kiosk: Safe And Effective
What is a Thermal Imaging Kiosk? A Thermal Imaging Kiosk allows hospitals, stores, and facilities to safely and accurately measure the temperature of anyone entering said place. From workers to patrons, healthcare workers to patients, a Thermal Imaging Kiosk from Tangent can take their skin temperature.
The Thermal Imaging Kiosk works by being placed in the entryway to your facility. From there, the touchless kiosk automatically scans any person in front of it for an elevated skin temperature. In under a second, the Thermal Imaging Kiosk takes the person's skin temperature and gives the information to both the person, and whoever is tasked in your facility for monitoring the entryway.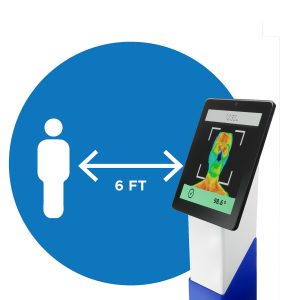 The Thermal Imaging Kiosk is fully touchless, and requires far less cleaning than traditional temperature scanners because of this. What's more, one Thermal Imaging Kiosk can do the work of thousands of individual temperature tests in one day.
Temperature Scanning Made Easy
If a patron is found to have an elevated skin temperature, the Temperature Scanning Kiosk will trigger a silent or audible alarm (user preference) to alert security or staff of the posed risk. The entrant can then be taken aside for further temperature scanning or simply be asked to leave the premise. With a Temperature Scanning Kiosk from Tangent, workers no longer have to be put at constant risk by manually taking temperatures.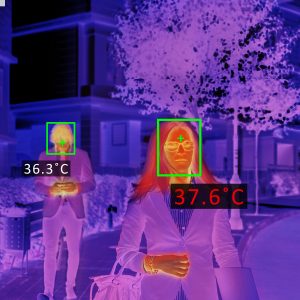 The AI powered Temperature Scanning Kiosk from Tangent uses the latest in skin temperature thermal imaging technology to get a fast and accurate read on an entrant's skin temperature. This makes the Temperature Scanning Kiosk the perfect first line of defense against the virus.
AI Powered Mask Detection
We have all seen videos of situations quickly escalating because staff asked a patron to wear a face covering. Even though masks should not be controversial, this is the current state of affairs. With an AI Powered Temperature Scanning Kiosk from Tangent, employees do not have to be put in these aggressive situations.
The AI driven Temperature Scanning Kiosk can detect if a person is wearing a mask, and inform the entrant of the mask requirement of your facility if your facility has one. This takes out the human element of this mandate, and can lead to less conflicts overall.
AI Powered, Thermal Imaging, Temperature Scanning Kiosks: Ready For You
The reality of the pandemic is that only by taking every possible precaution, can we get through this. With a Temperature Scanning Kiosk from Tangent, precautions can be taken without shifting the risks to your workers. Contact Tangent sales today for more information on our Thermal Imaging Kiosk.