A flat panel PC uses a thin panel design and is lightweight allowing more portability than monitors. Tangent's line of Industrial Flat Panel PCs are built with rugged components allowing heavy duty applications capable of withstanding harsh environments.
Built with reliability in mind, our industrial flat panel PCs come fanless for use in dusty environments. Many of our flat panel PCs are IP64, IP65, IP66, or IP69K sealed for waterproof, dustproof, shock  and vibration proof.
Our reliable flat panel PCs are capable of operating in up to 140 degrees.
Backed by our three and a half year warranty, you can rest assured that our Flat Panel PCs will operate reliably and are dependable.
Offering nine flat panel PCs, we have the flat panel PC you need for your industry specifications. Our flat panel PCs feature all-in-one touchscreens and are customizable with large I/O expansion to meet industrial standards.
F15
The F15 for example. This flat panel PC comes standard with a forklift mount, resistive touch, MIL-STD-810F, four RS232 & four USB ports, camera, 3G, GPS, RFID. Everything you need for your warehouse or factory. With programmable buttons, the F15 permits for one-handed operation while operating a forklift.
S Series
Our S Series Flat Panel PC is IP66 and IP69K fully waterproof. It has a stainless steel housing offering a corrosion resistant surface. Our S Series is ideal for factories, wet environments such as car washes, and in-vehicle applications.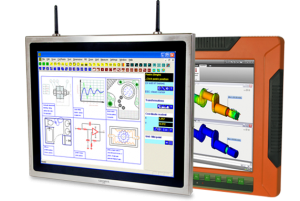 For Tangent's full list of flat panel PCs, complete with specifications, take a look at our Industrial Flat Panel PC page. Here you will be able to find your industry specific flat panel PC: Tangent's Flat Panel PCs