Commercial computers have found a home in offices, restaurants, and other places of business. But when it comes to the medical setting, standard computers are sorely lacking. A typical computer doesn't have to be as sanitary as a medical computer as they are rarely in a sterile environment,. Designers create medical computers specifically for use in hospitals, with cleanliness and performance always factored into their design.
How Medical Computers Perform Better In Hospitals.
Most computers feature a fan-based cooling system. This fan constantly circulates air throughout a computer, keeping its delicate components cool enough to operate. A side effect of this is that computers quickly build up dust. Without proper maintenance, this dust can reduce a computer's lifespan. Worse, this dust build up poses a health risk, and can harbor pathogens.
Medical computers use a fanless cooling system to prevent overheating. A medical computer like the Medix E22B from Tangent uses a passive cooling system to dissipate its heat. Because of this, it has no bulky fan to cause dust buildup. The Medix E22B is perfect for situations where dust can cause serious damage.
Antimicrobial Enclosures For Better Sanitation
Standard computers also lack one key feature that can help keep hospitals clean: an antimicrobial enclosure. Medical computers that sport antimicrobial enclosures can help promote a cleaner work environment for your staff. An antimicrobial coating is present on these computers which mitigates the growth of harmful pathogens across the computer's surfaces.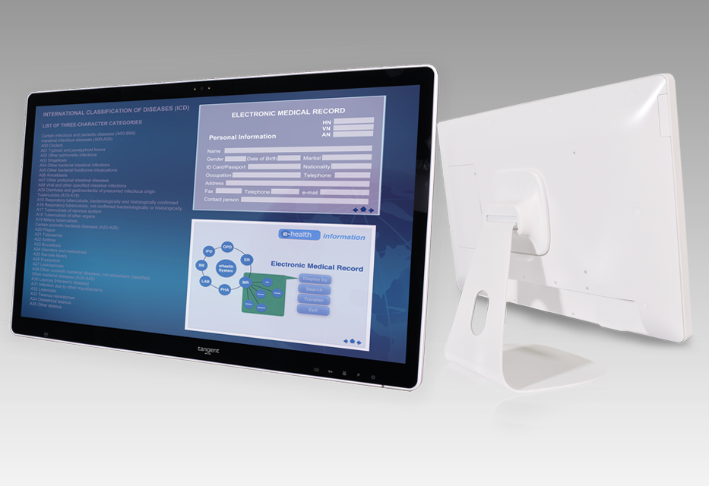 Not only are medical computers Antimicrobial, they can also be water resistant. The M24T from Tangent features an IP-rated water resistant touchscreen. The front panel of the M24T is IP65 rated as well as washable with standard cleaning agents. With both an antimicrobial enclosure and water resistance, medical computers are built to be clean and promote a safer hospital.
Medical Computers: Unmatched Performance
One of the biggest struggles with using standard PCs is their lack of power. Small commercial computers are lacking in many areas. Their CPUs handle easy-to-run office programs, but not much else. Their storage may make use of an SSD, but most likely uses a slower disk-based HDD. Because they don't have a high amount of RAM, they are unable to multitask effectively.
Medical computers are designed to alleviate these issues. The T22B from Tangent features a robust Intel processor capable of handling the medical programs your doctors rely on. It utilizes a NVMe SSD, which can run up to 35 times faster than traditional HDD systems. Best of all, the T22B can fit up to 32 GB of RAM, allowing your doctors to run numerous programs at once. With these fast components, the T22B will be able to service your staff today and tomorrow.
Tangent: Trusted And Relied On
When it comes to outfitting your hospital with the latest technology, Tangent medical computers are unparalleled. Their robust cleanliness features and lightning fast components make them the perfect choice for any hospital. For more information, contact Tangent Sales today.