Hospitals are dynamic workplaces. As this pandemic has shown, hospital administrators need to be willing to change up their strategies constantly. This may mean bringing on more staff at some times, or completely shifting around a hospital's layout in others. Many hospitals have had to set up popup clinics in their parking lot during this pandemic. These clinics provide testing, vaccinations, and more. While some hospitals were prepared to create such popups, others were not. They had to use their office medical computers attached to external power generators in these outdoor clinics. This sort of situation and others can be streamlined with the use of a medical PC with removable batteries.
Why Removable Batteries Are Important In A Medical PC
Hospitals have adapted to the digital era at a breakneck pace. Over the course of the pandemic, they have transformed primary care with Telehealth, and created new methods of treatment. Nurse medical carats have seen an immense evolution. Each one is now equipped with a medical PC in order to run various programs. The medical PC has become a vital platform for these carts, allowing nurses to use a variety of tools that are plugged into it.
But one major downside to these carts using medical computers now is their reliance on battery power. A cart typically has a battery, or their medical PC does, that requires time out of service to recharge. This can effectively cut your fleet's usable time by a third or more. But with Removable batteries that can be swapped out, your fleet of carts can enjoy 100% battery uptime. If a medical PC can store multiple batteries, a nurse can simply swap out a low one for a fresh one, and then place the low one on an external charge.
Tangent employs this hot-swap battery technology in their lineup of medical computers. A Tangent medical PC is careful to drain one battery at a time, instead of drawing from two or more simultaneously. This helps make charging simply and easy for staff.
Medical PC With Hot-Swap Batteries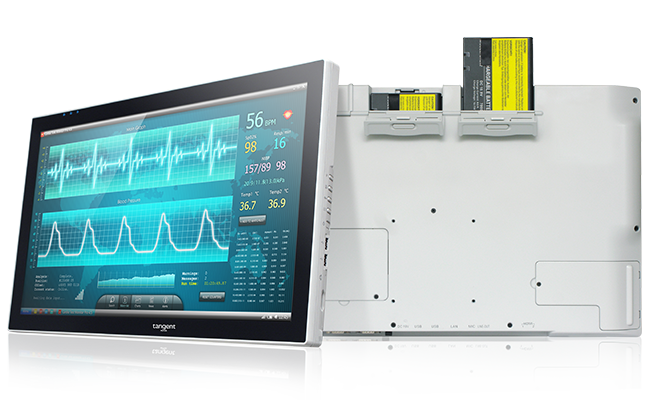 The Medix T24B is one such medical PC from Tangent. The T24B comes with three Hot-Swap Batteries. These batteries can be routinely swapped out to keep the T24B running for hours. This makes it perfect for popup clinics, where it can run entirely on battery power for the entire work day.
Other medical computers like the E22B can run on a 24/7 basis thanks to its hot-swap batteries. The E22B is perfect for medical carts, and features standard VESA mounting to fit anywhere your hospital requires.
Tangent: Built To Run 24/7
Not every medical PC is built equal. Many are unable to run on a 24/7 basis without being plugged into an outlet. Tangent has designed medical computers that are up to the task of operating whenever and wherever they are needed. For more information, contact Tangent Sales today.