Wireless communication is playing an increasingly important role in Healthcare. From doctors transitioning away from pagers to smartphones, to their increasing reliance on email communications: hospitals rely on wireless communication. But one area of wireless communications that is easy to look over is near-field communication (NFC). These devices allow your doctors, nurses, and medical staff to easily and safely perform routine tasks in the blink of an eye. With medical computers that have NFC readers, your hospital can take full advantage of NFC devices — without needing a mountain of adapters and dongles.
What Is NFC?
NFC is a type of communication protocol that allows for two electronic devices within 4 centimeters to communicate. This technology also falls into the broader RFID scope, which encompasses many types of communication protocols of various lengths and capabilities. These devices specifically however are designed for situations where one device "taps" another. You may have a debit card or smartphone capable of making payments with a simple tap — that is made possible by NFC technology.
NFC Applications In Healthcare
There are many different applications for NFC tag technology. We've already gone over their use for payments, but they have many other uses as well. In the medical field, tags can be used for a number of applications:
Building Access: tags can be used as "keys" in order to access sensitive rooms, keep the public out of specific areas, and keep medicine cabinets locked. tags can also track specific entries and exits made by tag holders.
Digital Access: tags can be used by doctors and medical staff to access various levels of digital information. For example, electronic health records can be kept behind a digital wall, made accessible only by medical staff with the proper clearance level on their tag.
Smart Patient IDs: Patient wristbands can be equipped with tags for better tracking and monitoring. On-call nurses can easily scan these wristbands to get a quick list of a patient's allergies, dietary restrictions, and more.
Best Medical Computers With Built-In NFC Readers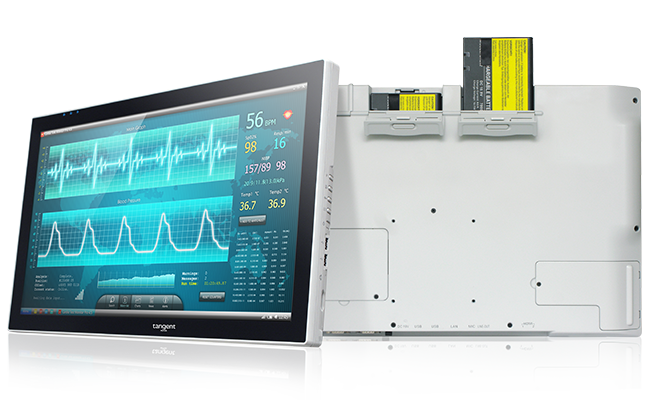 Tangent offers a number of medical computers with a wide range of RFID, Smart Card, and NFC capabilities. The T24B from Tangent comes with an optional NFC reader that can handle all of your digital reading needs. On top of these, the T24B also comes equipped with an optional RFID and Smart Card reader, covering all of the close-communication bases.
Tangent: Connect Better
Tangent strives to create technology that hospitals can not only use today, but also well into the future. NFC readers have become widely adopted in the healthcare industry, and their applications are near limitless. Medical computers from Tangent that feature these readers can help your hospital stay connected. For more information, contact Tangent Sales today.