The Difference Between a Thin Client and a Thick Client
Of all the jargon the tech world usually has for its computers and components, the name of thin and thick clients probably elicits the most accurate image of what they really are. A thin client  offers a bare bones, simplified approach to computing, in which the client system has no hard drive, moving parts, or locally installed applications. How is this possible? Quite easily actually! Thin clients are designed to connect remotely into a separate server or data center that does all the work in a virtual environment. Conversely, thick client PCs are full featured computers with all the standard hardware and locally installed operating system and applications. All the computing is done there on the workstation.
What's the point of having a computing console that can't operate autonomously? For one, security plays a huge role. All the data that is interacted with on the thin client is stored on the remote server. So if the computer were to crash or get stolen, there's no threat of losing valuable or private information. Having your data and applications in the one location means that only the main server or server farm needs to be secured, rather than installing security software on every computer in the organization. These clients can do much of the same work that thick clients can, but with greater savings in space and cost. Thin clients excel in being easy to set up, easy for end users to utilize, and easy to administrate. In an office environment where users work with the same applications and processes daily, it's an elegant solution.
Tangent offers three thin clients to meet a great variety of needs. First is the sleek and impressive looking Z600. This computer is seamlessly built into the base of a 21" LED Backlit LCD display. It doesn't look like a thin client is present at all on this lightweight machine! The slim LCD has full HD 1080p for an enhanced viewing experience, and a fanless operation means the system provides a very silent working environment. The client has four USB 2.0 ports, audio jack, and an ethernet port. For an added measure of security, a Kensington lock is affixed to the back of the monitor. The low wattage CPU promotes efficient energy consumption without compromising on performance.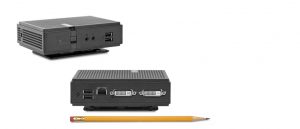 The Z400 thin client offers support for dual monitors, making it perfect for users that need to multitask. The diminutive machine can be mounted vertically or horizontally and is a featherweight at 0.8lbs. The TI ARM CPU provides a high performance experience while still maintaining energy-saving value. Like Tangent's other thin clients, the fanless design boasts reliability and noise-free operation. The  Z400 has four USB 2.0 ports, two DVI (digital video interface) ports, an ethernet port, and audio jack.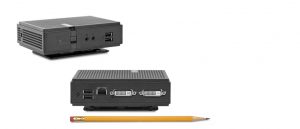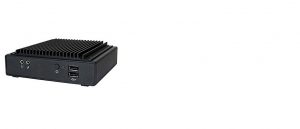 The Thin Client 160 is a compact, but mighty product in this line. It's also quite a versatile one with options for wireless networking and VESA-compliant mounting, along with the durable and fanless construction that Tangent is known for. The client provides a DVI (digital video interface) port and a VGA adapter for optimal display experience on high resolution displays. The Thin Client 160 also has four USB 2.0 ports,  and audio ports for line-in/mic and line-out/headset. The powerful and energy-efficient VIA 1GHz x86 processor will ensure that all remote client functions can be handled with ease.