The last year has been a challenging one for many hospitals. The pandemic strained resources and personnel throughout the winter. But things are beginning to turn around, thanks in part to the widespread availability of vaccines. As hospitals exit the pandemic, they must turn their sights back towards helping everyday patients. The lessons learned in the pandemic should not go to waste however. The pandemic has accelerated medical grade computer adoption in the medical industry, and this adoption still has a place in a post-pandemic world.
Telemedicine With Medical Computers
Telemedicine has seen a remarkable boom in use during the pandemic. Patients with severe conditions rely on hospitals for their treatments. These could be needed on a weekly or daily basis. But when the pandemic hit, these patients were faced with a stark choice: receive the treatment they need and potentially put themselves in harm's way, or forgo treatment and similarly see a decline in their health.
Neither option is ideal, and that's where telemedicine came in. Telemedicine on medical computers allowed doctors to virtually connect with their most at-risk patients. Their patients in turn received the quality healthcare they needed. This was accomplished thanks to medical computers like the M24T from Tangent.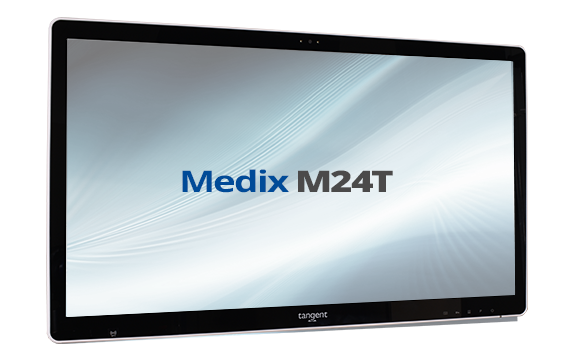 The M24T from Tangent is a full-fledged medical computer built with telehealth in mind. The M24T has an impressive front-facing camera that doctors can use in telehealth appointments to allow their patients to actually see them. This face-to-face contact is crucial not only for your patient's peace-of-mind, but also for your doctors to better understand their patients.
The M24T also has a full touchscreen. This touchscreen allows doctors to view medical charts, x-rays, and other medical information using just their hands. This intuitive design facilitates easier communication between doctors and their patients, and cuts down on wasted time during telemedicine appointments.
Medical computers like the M24T can also connect with remote monitoring technology. Remote monitoring has allowed doctors to remotely perform the tests that some high-risk patients need on a daily or weekly basis, all without needing patients to actually come into the hospital.
All Of The Convenience With None Of The Hassle
Tangent medical computers allow patients to visit with their doctors remotely, getting all the medical care they need without the hassle. For more information, contact Tangent Sales today.