Integrating technology into hospital workflows has been massively transformational to a great many health care systems and providers.  An article from Healthcare IT News discusses how a hospital in New York was able to leverage technology to monitor patients and reduce transfers to the ICU by 63%. Staff at Saratoga Hospital were taking patients' vital signs that were manually logged into the electronic health record to be assessed by nurses. This manual process made it slow and difficult for nurses to identify flags that a patient was deteriorating and needed intervention. Because of this, many patient's states were degrading to the point of needing to go to the ICU. Through the use of the newly installed patient monitors, data was input directly into the EHR, reviewed by nurses with far more efficiency, and care was provided in a much more timely manner. With that, patient transfers to the ICU plummeted.
Patient monitors can come in a variety of applications and installations. Quite often you will see a mobile cart or a retractable swing arm on the patient's room wall. In work areas, the PCs can be mounted directly onto the wall for ease of use in small offices. Mountable industrial PCs are versatile, modular, and powerful machines for both hospital and industrial settings. Tangent takes a holistic approach to providing whole project solutions for mountable industrial PC setups; they offer a variety of both industrial and medical computers, and mounting options for them to suit the unique requirements encountered at each patient care facility. Tangent offers easy fold IT stations, arm workstation systems, variable height mounting solutions, and monitor arms that can handle dual monitors. Tangent's cart solutions range from top of the line, smartly featured, inductive charging mobile workstations, to lightweight, uncomplicated stands. Each product is tested to be durable, reliable, and versatile.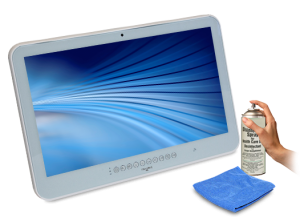 For hospital environments, a medical grade mountable PC is perfect to help ward off infection and provide features clinical settings most often desire. The C-series from Tangent ranges from 17" to 24". With VESA mounting options, they can be installed on most any carts, arms, walls, or used with an optional stand as a desktop device. The same type of mounting options are available for many of Tangent's industrial grade PCs. The computer in a clean room doesn't need an antimicrobial coating as with the PCs in patient areas, it needs to be able to be washed with solutions and hot water for complete sterilization. Be it with patient monitoring systems or with automating hospital inventories, replacing manual processes with streamlined tech solutions is proven to create drastic improvements in safety, patient care stats, and efficiency.