It goes without saying that one of the best foods for newborn babies is their mother's milk. Breastfeeding babies is good for both the mother and the baby itself, and can help mothers form an intimate relationship with their new progeny. But keeping newborn babies adequately fed in the neonatal intensive care unit right after birth can be a struggle. Keeping track of both mothers and newborns, having mothers produce a sustainable supply of breastmilk, and more can clog up your hospital's human milk workflow. With Tangent's HumanMilk workflow solution however, these problems can be a thing of the past.
Better Human Milk Workflow With Tangent Medical Computers
With Tangent, human milk workflows become a breeze. First, a mother expresses milk via a pump or whichever apparatus your hospital prefers. A nurse or medical professional will then create a barcode and affix it to the bottle. After that, the nurse places the bottle into a refrigerator for safekeeping.
These first few steps may sound familiar and are most likely already a part of your hospital's human milk workflow. But creating and preserving human milk is only the first half of the equation. Where Tangent steps in is in the second half.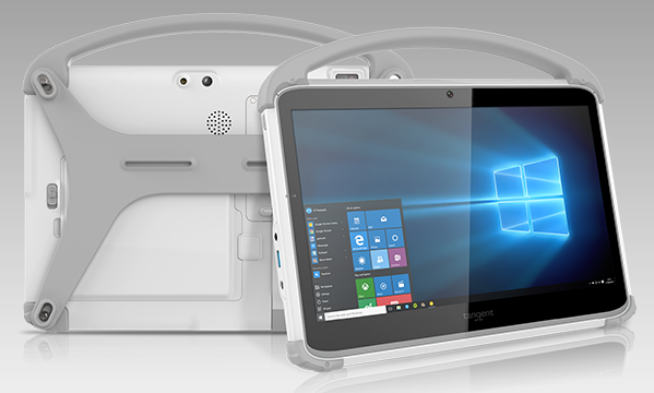 Medical grade computers like the T-13 medical tablet are designed with built-in barcode scanners. These barcode scanners allow your nurses to quickly and accurately identify and place human milk bottles with their corresponding recipient.
Nurses simply take the bottles out of the fridge and scan the barcode affixed to it. This barcode identifies both the mother and the child, as well as whether a fortifier should be added or if the bottle should be split. At this point, a new label is created and affixed. The nurse then scans the baby's wristband and bottle to confirm a match, and then feeds the baby.
The T-13 medical tablet is easily carried, allowing nurses and medical professionals to move along their workflow with ease. An antimicrobial coating which mitigates the growth of harmful pathogens also is present on the T-13's casing, creating a safer and cleaner working environment for your hospital's staff.
Upgrade Your Human Milk Workflow With Tangent
Human milk workflows can be a challenge for even the best of hospitals. With The T-13 medical tablet, these workflows can become easy and safe. For more information, contact Tangent Sales today.