While vaccination programs are underway throughout the United States, multiple areas are seeing a worrying rise in both cases and hospitalizations. States along the East coast are struggling to further lower their curves, as case numbers remain stagnant. Hospitals around the country need to remain vigilant in their fight against the pandemic. One of the easiest ways to keep medical professionals safe during these times is to equip them with antimicrobial medical grade computers.
Antimicrobial Medical Computers
As this pandemic has shown, infections can easily spread in the hospital. Masks, gloves, and regular safety precautions can go a long way in helping to prevent the spread of illness. But antimicrobial medical computers add an extra layer of protection to your hospitals.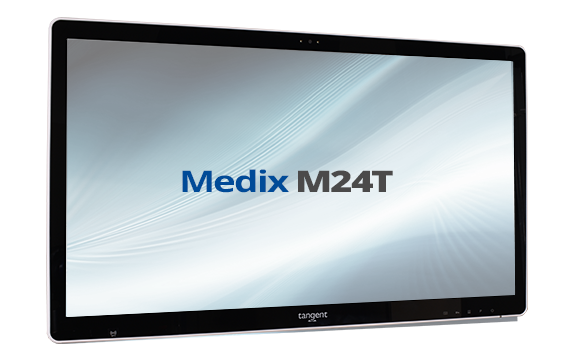 Antimicrobial medical computers like the M24T from Tangent feature a durable coating that mitigates the growth of harmful pathogens on its surface. This antimicrobial coating helps prevent the spread of disease by reducing the amount of pathogens present on one of the most widely touched surfaces in the hospital.
Antimicrobial medical computers are also IP rated for water resistance. This means that their screens can be cleaned with traditional sanitation supplies without any damage being sustained to the computer itself.
Customizable Medical Computers For Every Occasion
Medical computers from Tangent aren't just antimicrobial, they are fully customizable. Take the E24B for instance. This all-in-one medical grade computers is as adaptable as it is powerful. With a built-in touchscreen, the E24B can be operated as a traditional desktop computer or tablet. What's more, with the E24B's hot-swap batteries, the medical computer can be equipped to medical carts with ease.
When on medical carts, the E24B can run on a 24/7 basis. Simply swap out batteries throughout the day as needed, there's no need to park the entire cart and wait for it to charge.
Prepare With Tangent
This pandemic has forced hospitals to be on constant alert for the safety of both their employees and patients. Now, the end of the pandemic is in sight. But now is not the time to relax your hospital's safety plan. Keep your hospital safe until vaccinations can be fully administered with antimicrobial computers from Tangent. For more information, contact Tangent Sales today.