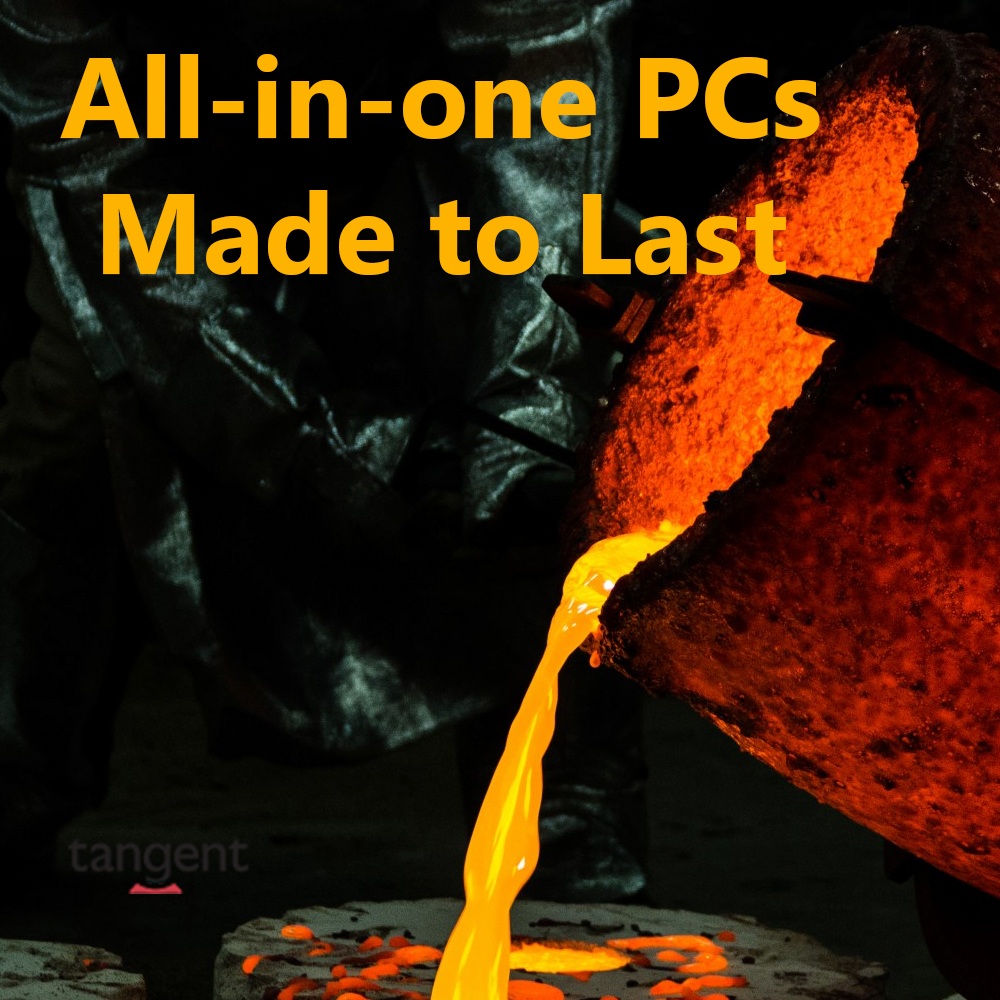 In the industrial setting, equipment needs to be built to last. At Tangent, we know that having reliable equipment is crucial to getting the job done. Our all-in-one PC lineup features PCs that are not only built with high speed components, but also built to last. Our all-in-one PCs have multiple features that make them resistant to temperature, environment, and contaminant exposure. Here are some of these features that make our all-in-one PCs last for years.
Water And Dust Protection
The industrial environment can be an unpredictable one, and making sure that your equipment can withstand the hiccups of production can prevent unnecessary production loss. Dust and moisture are common contaminants on the factory floor, and can cause serious damage to PC equipment. Commercial grade PCs have no protection against either, and are highly susceptible to overheating damage from dust buildup. All-in-one PCs like the S Series from Tangent are IP69K rated to be both dust and water resistant. Featuring a fully enclosed case, the S series inhibits dust build up, and can be run with minimal maintenance. 
Extreme Operating Temperature Range
Whether they are in the extreme cold of a refrigerated food facility, or in hot warehouses in the summer, Tangent all-in-one PCs can perform at their maximum. Our all-in-one PCs, like the F15 all-in-one PC, have extreme operating temperature ranges. From as cold as -4°F to as hot as 140°F, the F15 can operate without impact on its performance. Tangent's all-in-one PC lineup is perfect for settings where temperature extremes are the norm, and can be an integral part of your facility for years.
Fanless Passive Cooling Systems
One of the biggest differences between Tangent's lineup of all-in-one PCs and others is our selection of fanless systems. All-in-one PCs, like the VITA 474, feature a passive cooling system that is absent of a fan. This allows the VITA 474 to operate in dusty, hot conditions without impacting the physical components of the computer. This also allows the VITA 474 to go much longer without maintenance.
Quality Technical Support
We know our all-in-one PCs are the most dependable industrial PCs, and that's why we offer a 3.5 year warranty on our industrial PCs. In the event that something does occur, our 24/7 US-based technical support hotline is more than happy to assist you. Tangent's lineup of all-in-one PCs are built to last, and our technical support team is here to ensure that they do. Whatever your industrial setting may be, there's a Tangent all-in-one PC that can be a lasting part of it.