The job requirements for an industrial refinery's quality control inspector are understandably  hefty. They are required to monitor mechanical works in progress and evaluate completed work to ensure compliance with applicable codes and safety standards. In their work day, they are often on-site reviewing and comparing mechanical drawings for code compliance and for requirements on piping, pressure valves or other hardware repairs. This is a challenging enough job from behind a desk, but quality control inspectors are expected to work outdoors and in inclement weather conditions, as well as to wear fire-retardant clothing and personal protective equipment such as steel-toe shoes, ear and eye protection. The hazardous environment of a refinery requires heavy precautions and experienced workers using the right tools to complete their job. As they need proper attire, inspectors also need similarly protected industrial grade computer equipment in their role.
With a hand-held industrial grade tablet computer, an inspector can actively pull up blueprints and requirements while looking at plant infrastructure, fabricated and welded parts, worker processes, take pictures of questionable or old pipe fittings, red flag components,  complete QA reports and sign off on work. The industrial grade quality of the tablet is important to ensure that it can hold up to the harsh environment, constant movement, and perform to the degree needed.
The Tangent R10 10" industrial tablet has a rugged exterior design that is tested to handily withstand drops of up to four feet. It has PCAP multi-touch, an IP65 rating to prevent water, dust, ash or other contaminant ingress into the computer, and is fanless to also prevent harmful internal buildup. The R10 goes above and beyond other tablets with an optional combo data input accessory that offers smart card, MSR, and fingerprint reader that can be extremely useful for quick and secure access. It also has F1 & F2 programmable keys for fast, and repeatable actions which is useful for an inspector to mark items as pass or not pass on a checklist, or switch between forms, applications or drawings.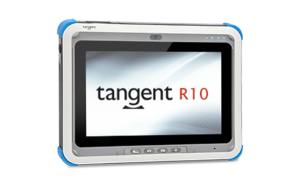 This industrial grade tablet's internal components can be customized to suit the performance and storage needs of its purpose, and it has an optional desk charging stand so the tablet can be used with a full size monitor in the office and immediate be on the go again. Utility, durability, and flexibility can make all the difference in the effectiveness of a quality control inspector, and that has a huge impact on the safety and compliance record of an industrial operation.