Telehealth has become synonymous with healthcare during this pandemic. Hospitals around the country are using telehealth services on their medical computers to continue caring for their patients. GlobalData has found that 79% of medical specialists are now using telemedicine in the hospital. This is in part due to federal regulators and the private sector making telemedicine easier than ever to implement in hospitals. But will telehealth remain after the pandemic has subsided?
Telehealth After The Pandemic
Telehealth has become an integral part of how hospitals treat patients. Patients have become accustomed to the appointments, which do not require them to spend time driving to the hospital and waiting for the doctor. In fact, 9 out of 10 patients who used telehealth for appointments had a positive experience.
But these appointments were only made possible by sweeping federal action at the beginning of the pandemic, and are at risk of being taken away. The American Medical Association has previously called for the pandemic-related waivers that make telehealth possible to be expanded with the Telehealth Modernization Act. With this legislation and other similar ones being brought to the house and senate floor, it's looking likely that telehealth will become a permanent fixture in the hospital setting.
Continuing Use Of Telehealth After The Pandemic
Hospitals should expect to continue making use of telehealth after the pandemic. While the service has been primarily used by at-risk patients, widening its availability can help hospitals reach more patients. With advanced medical computers from Tangent like the M24T, doctors can rapidly see numerous patients back-to-back. The primary benefit of the use of medical computers for telehealth is this saved time, for both doctors and patients. Doctors do not have to wait for patients to be roomed, and can quickly switch from one patient to the next without having to walk through the hospital.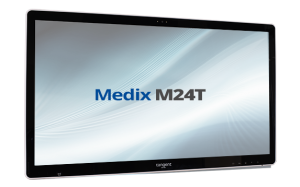 Telehealth With Tangent
Tangent has always designed their lineup of medical grade computers to be telehealth-ready, and during this pandemic this design-choice has been greatly utilized. Learn more about how Tangent can help your hospital in its telehealth efforts by contacting Tangent Sales today.