Industrial grade computers are the building blocks of today's modern factories. Industrial grade computers have helped usher in the next industrial revolution, the smart factory revolution. With the smart factory revolution has come the need for specialized industrial grade computers to fulfill specific niches in the manufacturing process. Tangent has filled these niches with three types of industrial grade computers, each ready to help increase the productivity of your industrial facility, whether it be a factory, oil rig, or any type of facility.
Mini Industrial Grade Computers
Industrial needs come in many different shapes and sizes, and so does Tangent's lineup of industrial grade computers. Mini rugged industrial grade computers from Tangent are versatile computers that can fill many different roles in the factory. Mini industrial grade computers like the Rugged Mini E3 from Tangent are highly adaptable and customizable. This fanless mini industrial grade computer is smaller than a dictionary, making it perfect for use in tight areas of your factory.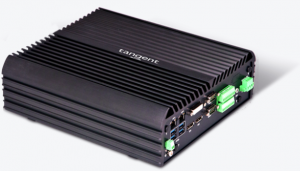 Need an in-vehicle computer that can withstand an industrial grade beating? Industrial grade computers from Tangent are up to the task. With a rugged mini industrial computer as your in-vehicle computer, you don't have to worry about shock or vibration damage. Simply plug in a rugged mini computer and you're ready to go. With solid bodies and no internal moving parts, Tangent's mini industrial computers are perfect for vehicle use.
Industrial Grade Touchscreen Computers
Sometimes there simply isn't enough room on the factory floor for a whole computer setup. This is where industrial grade touchscreen computers from Tangent come in. With these slim all-in-one industrial computers, you never have to worry about space. Simply mount an all-in-one industrial grade computer like the S22 and you are ready to go. These powerful industrial computers can run any industrial software needed, without needing a keyboard or mouse to operate.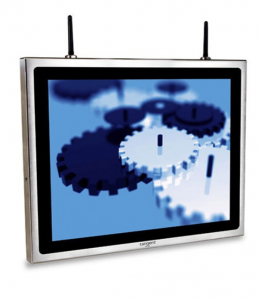 These touchscreen industrial grade computers are also perfect for system monitoring and other auxiliary needs in the factory.
Industrial Grade Computer Tablets
There's no reason to not have your workers plugged into the factory from wherever they are. With industrial grade Tablets from Tangent, this is entirely possible. Industrial grade computer tablets like the P13 allow workers to check in on systems, manage production, and more from anywhere in the factory. Equipping your industrial workforce with industrial grade computer tablets is a surefire way to keep everyone productive.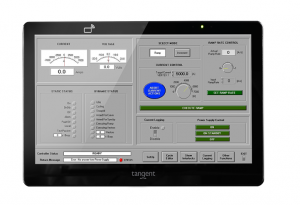 Industrial Grade Computers: A Fit For Every Situation
The many situations that your workers may find themselves in on the industrial job site demands many solutions. To that end, Tangent has created industrial grade computers for every occasion as the perfect solution to this dilemma. Contact Tangent sales today for more information.