The big question on everyone's mind is if and when AI and robots will be able to take over human workers in factories. While this question doesn't have an easy answer, there are inklings that such a transformation is just beyond the horizon. Hotcars.com recently looked at the Changan car manufacturing facility in China, which features a 90% autonomous production line. Yes, you read that right. With 90% of the work being done to produce cars automated, the Changan factory is capable of producing 600 finished cars per day.
With the smart factory revolution well underway, facilities like the Changan car manufacturing plant are becoming less of outliers each day. Keeping up with the competition is key to staying afloat during these times. Luckily, following in the footsteps of other factories is an easy way to catch up. Here are just some of the ways that your facility can increase its autonomous production.
Building Autonomous Factories For Higher Efficiency
The more you increase your factory's automation capacity, the higher you can expect your yields. While automation isn't synonymous with efficiency, it can help drastically reduce labor costs across the board. This in turn, can create a profit buffer for your business.
The question then becomes, how can factories increase their automations efforts? The simplest solution is to look at what other factories are doing in their own efforts. Many facilities are taking advantage of sensor networks and the Internet of Things to increase efficiency. By tagging parts in production with RFID chips, workers can easily monitor production in real time and see if things are going wrong. This removes the worker from the factory floor, and allows them to monitor multiple systems simultaneously.
Preparing For The Future Of Automation
One way to help your facility enter the smart factory revolution is to incorporate more industrial computers into your facility. Industrial computers are computers that are custom tailored for industrial use. From small, rugged mini industrial computers that can withstand temperatures of -40° to 158°F to ones that are completely IP69K certified waterproof, there's an industrial computer that can make your factory more efficient.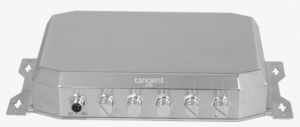 Tangent Industrial Computers: The Future
The future is just around the corner, and Tangent is here to help you prepare. We are constantly thinking about how manufacturing will change in the coming years, and create our line of industrial grade computers to reflect this. Our fully customizable industrial computers are adaptable and versatile, making them perfect for futureproofing your facility. Learn more by contacting Tangent Sales today.